Major League Baseball's Unspoken Problem
Did a language barrier contribute to Michael Pineda's pine tar fiasco?
by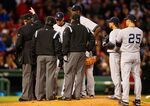 Did a language barrier contribute to Michael Pineda's pine-tar fiasco?
New York Yankees teammate Carlos Beltran has shed light on a problem that often goes unspoken in MLB clubhouses -- literally. According to the Star-Ledger's Jorge Castillo, Beltran expressed his frustration at the lack of Spanish-speaking interpreters employed by teams. This comes on the heels of Pineda's suspension for using pine tar during a game against the Boston Red Sox, after which the Dominican-born pitcher chose to address the media without an interpreter.
Pineda says he prefers to give interviews on his own, to help him learn English. But the language barrier was evident in those interviews Wednesday night and caused a bit of confusion. When asked, twice, if the Yankees had warned him about not using pine tar, Pineda answered "no" both times. But when he was asked the same question in Spanish, he realized he hadn't understood the first two times, and clarified that Yankees manager Joe Girardi and pitching coach Larry Rothschild had, in fact, discussed the issue with him.
"He doesn't understand a lot of the questions," a member of the organization told Castillo.
It's not just an issue of accurately representing himself to the media, however. There seems to be a question of whether Pineda really got what Girardi and Rothschild were telling him. Girardi wouldn't say definitively if the pine-tar conversation was conveyed to Pineda in Spanish -- apparently under some guise of maintaining clubhouse confidentiality -- but did assert that the team is "very thorough, that when we want to get a message across, there's nothing lost in the translation."
Castillo notes, "Girardi was then asked if he believed Pineda left the room fully understanding the message. The manager shrugged his shoulders."
Given the strong presence of native Spanish speakers among major leaguers, it's rather surprising that MLB teams haven't figured out a proper way to bridge the communication gap. It's not necessarily an oversight -- MLB.com ran an article back in 2010 taking a look at the importance of interpreters to foreign players, and last year the league adopted a rule allowing interpreters to participate in conferences on the mound with pitchers who aren't fluent in English. Yet the vast majority of interpreters employed by teams are Japanese, and just 4 percent of the 224 foreign-born players hail from Japan, compared with nearly 88 percent from Spanish-speaking Latin American nations. Teams such as the Yankees largely leave the Spanish translations up to bilingual members of the clubhouse, rather than a professional interpreter employed by the organization.
In a sense, this is a sign of the "normalization" of Latinos and the Spanish language across the league, as the number of bilingual players continues to grow. It's interesting, though, that Spanish has become so commonplace among ballplayers that teams don't feel the need to employ professional interpreters at the same time in which Hispanophobia proliferates across the country. Anti-immigration groups do little to hide the racial motivations for their politics, calling for English to become the national language while regaling against bilingual education. According to the Bureau of Justice Statistics, the rate of violent hate crimes against Hispanics more than tripled from 2011 to 2012. There are more than 53 million Hispanics in the U.S., and the community's growth is far outpacing that of the nation at large, yet they're still viewed as outsiders by many.
Baseball has been a historical avenue by which fringe ethnic groups have become part of the mainstream of broader society. Confined to ethnically specific urban ghettos, Irish, Italian, Polish and Jewish immigrants in the late 19th- and early 20th centuries assimilated in part through their participation on the diamond. The game has long reflected what it means to be an American and has helped foreigners "become American" for more than a century. As demographics shift and the definition of what it means to be an American continues to evolve, baseball should so adapt to accommodate the cultural and lingual needs of its ever diversifying rosters.
This column does not necessarily reflect the opinion of Bloomberg View's editorial board or Bloomberg LP, its owners and investors.
To contact the author on this story:
Kavitha A Davidson at kdavidson19@bloomberg.net
To contact the editor on this story:
Toby Harshaw at tharshaw@bloomberg.net
Before it's here, it's on the Bloomberg Terminal.
LEARN MORE