It's Apple! It's Google! It Must Be Huge News
That huge lawsuit against Apple and Google? What a dud.
by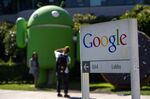 Back when I was a young reporter in Little Rock at the Arkansas Democrat-Gazette many years ago, we had a wonderful editor who had a very smart rule: When writing about an ongoing lawsuit, don't repeat the claims by plaintiffs' lawyers about how much money they're seeking in damages. They can make up any number they want. So it's meaningless and not worth reporting.