view
Friday Baseball Blogging: Some Reasons to Be Excited
Reasons to be excited for baseball in 2014.
by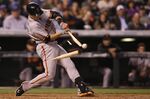 I don't have anything analytic this week. Instead, now that the 2014 season is in full swing, I put together a list of things for baseball fans to enjoy in 2014:
1. Baseball-Reference.com. I've said it before, and I mean it: Sean Forman deserves to be in the Hall of Fame.
2. MLB Network. Yeah, some of the analysts are a bit behind the times -- to put it nicely. Overall, the network is very good. Trading games from the Braves and Cubs/White Sox on two channels during the 1980s and '90s for the MLB Network's random assortment of games is a big win. And the live cut-ins are terrific.
3. Mike Trout. We're getting to watch his career from the beginning, and no one knows what his limits are. I'm not particularly a fan, but so what -- there isn't always one of these players around, so we have to enjoy it when it happens.
4. The ballparks. I'm way behind on visiting a lot of them -- living in San Antonio isn't ideal for that sort of thing -- but those of us who grew up with Candlestick, Shea and Veterans Stadium can really appreciate the parks we have now.
5. The Giants broadcast team. OK, this one doesn't matter for most of you, but Jon Miller, Duane Kuiper, Mike Krukow and Dave Fleming remain the best in the business. They're now in their 10th year together (17th for the three senior broadcasters).
6. The Yankees have stopped being in the postseason every year. And they've only been to one World Series in the last 10 years.
7. These maps. Also this map.
8. Buster Posey.
9. The possibility for another great pennant race. I still don't think the playoff structure is ideal. But if two great teams come from the same division, they'll have to play to win it.
10. The single best thing about baseball in 2014 is still MLB audio. All of the season's radio broadcasts are streamed for a ridiculously low price. My 7-year-old self, straining to hear out-of-state radio broadcasts through the static, is so, so jealous.

Seriously, it's a great time to be a baseball fan. Probably the best ever. What do you think?
To contact the author on this story:
Jonathan Bernstein at jbernstein62@bloomberg.net
Before it's here, it's on the Bloomberg Terminal.
LEARN MORE