Boehner's Truthful Gaffe on Obamacare
House speaker inadvertently acknowledges that the health-care law probably can't be repealed.
by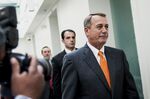 Those looking for the best example of a Michael Kinsley gaffe -- when a politician inadvertently tells a truth he or she isn't supposed to reveal -- should look no further than House Speaker John Boehner. Repealing Obamacare "isn't the answer," he said, Republicans also need to offer a replacement:

The challenge is that Obamacare is the law of the land. It is there and it has driven all types of changes in our health care delivery system. You can't recreate an insurance market overnight ... So the biggest challenge we are going to have is — I do think at some point we'll get there — is the transition of Obamacare back to a system that empowers patients and doctors to make choices that are good for their own health as opposed to doing what the government is dictating they should do.
Although "repeal and replace" has been the Republican position on Obamacare since 2010, "replace" has been there mainly because it polled well. Republicans were satisfied with the health-care status quo in 2009, and would have been glad to repeal Obamacare to return to it. As Steve Benen points out, Republicans voted for just-plain-repeal many times. They even shut down the government in October without having come up with a "replace" plan. The "replace" component never quite shows up.
Flat-out repeal was a coherent policy position in fall 2010, when the Affordable Care Act was in its infancy. Now, however, reform has become a vigorous preschooler, and everyone has bought new furniture, moved to a different neighborhood, and otherwise rearranged their lives in ways that aren't going to go away if reform suddenly disappeared. Flat-out repeal is policy nonsense and has been for months, and Boehner has revealed that he knows it.
Repeal would be as if Vladimir Putin decided that sharing the International Space Station is a bad idea, and ordered Russia to return to using Mir. Or if NBC decided to bring back original cast of the "Cosby Show" next year with the "kids" still living at home and going to school.
Of course, Russia could build a new space station, and Republicans could build an ACA replacement. But that's hard work. And it doesn't appear they're anywhere close to ready to do it.

This column does not necessarily reflect the opinion of Bloomberg View's editorial board or Bloomberg LP, its owners and investors.
To contact the author on this story:
Jonathan Bernstein at jbernstein62@bloomberg.net
To contact the editor on this story:
Max Berley at mberley@bloomberg.net
Before it's here, it's on the Bloomberg Terminal.
LEARN MORE