Why Russia's Soft Internet Censorship Will Fail
The Russian government is trying to censor blogs by imposing media laws on them. This will not work because services are already moving to protect users.
by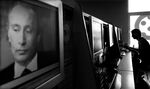 An outright ban on Twitter, such as the one that Turkey recently imposed and quickly lifted, can be embarrassing: A prime minister may end up suing his own country in the aftermath, having achieved little. So Russia, as intent as Turkey on stifling dissent on the Internet, is trying a more underhanded approach. It is trying to equate popular bloggers with media and thus impose tighter controls on them.
This more subtle tactic won't work either, and Russian blog platforms are moving to quietly sabotage it.
A bill passed by the Russian parliament on Tuesday says that any blogger read by at least 3,000 people a day has to register with the government telecom watchdog and follow the same rules as those imposed by Russian law on mass media. These include privacy safeguards, the obligation to check all facts, silent days before elections and loose but threatening injunctions against "abetting terrorism" and "extremism." This signals to bloggers that they will be closely watched and that Russia's tough slander and anti-terrorist laws will be applied when the authorities think it appropriate. Bloggers who fail to register as media face fines of up to $900.
There was no international outcry as in the case of the Turkish Twitter ban. Only Dunja Mijatovic, the media freedom representative of the Organization for Security and Cooperation in Europe, called on Russian President Vladimir Putin to veto the bill, which he is unlikely to do because it fits in well with his recent oppressive policies. Perhaps Russia has already been written off as a rogue state because of its heavy involvement in the Ukraine crisis, and more curbs on its media freedoms are no longer an issue for the international community. For Russian bloggers, however, the bill - which will come into effect from August assuming that Putin signs it - is a sign that the government is coming for them.
"The goal is to kill off the political blogosphere by the fall," one of Russia's most popular anti-Putin bloggers, Andrei Malgin,wrote in his LiveJournal blog.
The more technically-minded internet users are already discussing a wider use of anonymizers and even blocking access to their blogs from Russian IP addresses: Those unable to bypass that are, arguably, not worthy of reading posts that might bother the government. They shouldn't, however, worry too much, because blogging platforms and aggregators are already working to make it difficult for the government to figure out how popular bloggers are.
Yandex, the search engine that is more popular in Russia than Google, closed down its blogger popularity ranking on April 18. On Wednesday, LiveJournal followed suit. The blogging service will also stop showing the actual number of subscribers for the owners of its most popular pages, replacing it with "2500+."
"Now we will all be 2500+," the popular blogger Samson Sholademi wrote on Facebook. "I'm not going to register with anyone, and if worse comes to worst, I'll move to a foreign domain."

Facebook, Twitter and the Russian social network VKontakte have not undertaken any similar moves yet, but it is hard to believe they will provide the Russian government with detailed page view data for each user. This kind of information is hard to extract otherwise, making it difficult for the telecom regulator to identify those bloggers who should be registering under the new law.
There is, of course, a compelling business reason for Russian services to protect their users: They are afraid that otherwise activity will drop off because of self-censorship, as it did last year for Weibo, China's equivalent of Twitter. Excessive regulation of the internet "may cause Russia to lose the internet as a unique industry that could become a growth point of a new, postindustrial economy in this country," Dmitri Grishin, head of one of Russia' biggest internet companies, Mail.ru Group, said in a press release.
Given the willingness of internet companies to push back, this latest attack on web freedom will probably fail. It seems that anything short of a Chinese-style "great firewall" will fail to enable governments to censor the web effectively. Each misstep, however, is bringing countries such as Russia and Turkey closer to a more drastic clampdown on the China model. Dictators know what they want to achieve and it would be naive to underestimate their ability to learn.
This column does not necessarily reflect the opinion of Bloomberg View's editorial board or Bloomberg LP, its owners and investors.
To contact the author on this story:
Leonid Bershidsky at lbershidsky@bloomberg.net
Before it's here, it's on the Bloomberg Terminal.
LEARN MORE