What Obama and Abe Didn't Talk About
Far more important than territorial disputes with China is the challenge of returning the Japanese and U.S. economies to health. Yet neither Japan nor the U.S. is doing enough to restore growth.
by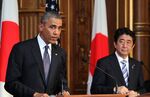 As New York Times columnist Paul Krugman recently reminded readers, the dirtiest word an economist can call you is "Japanese."