Nova's Elbow Is Baseball's Latest Exploding Star
New York Yankees pitcher Ivan Nova is the latest young hurler to fall prey to the dreaded torn UCL, with doctors recommending Tommy John surgery to repair his elbow.
by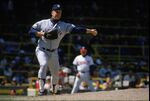 New York Yankees pitcher Ivan Nova is the latest young hurler to fall prey to the dreaded torn ulnar collateral ligament, with doctors recommending Tommy John surgery to repair his elbow. It's a frustrating blow to a team that has already had to deal with a bevy of injuries early in the season and must now cope without the third man in their rotation until next year.
With Yankees starting lineup that largely predates the Reagan administration, and an aging ace in C.C. Sabathia, the prospect of losing the 27-year-old Nova likely wasn't on many fans' minds heading into April. This wasn't as predictable as an injury to, say, 34-year-old Mark Teixeira, who has spent more time on the disabled list than the diamond in the last two seasons. But just four starts into the 2014 campaign, it was clear that something was wrong with Nova, who finished last year with a 3.10 ERA, 116 strikeouts and just 135 hits in 139 1/3 innings pitched. He enters the DL with an 8.27 ERA, surrendering 32 hits with just 12 strikeouts in 20 2/3 innings. He's already given up six home runs this year; he gave up nine in all of 2013.
Thankfully, Tommy John surgery isn't the death-knell it once seemed to be, and plenty of pitchers have returned just as healthy, if not stronger, than they were before. John Smoltz, Chris Carpenter and Joe Nathan come to mind, not to mention the man after whom the surgery is named, who went on to pitch 14 more seasons and rack up another 164 wins afterward.
If he chooses to have the surgery, Nova is just another in a recent slew of young pitchers who will have had Tommy John. As sports injury guru Will Carroll wrote last year, the precise point at which Tommy John surgery greatly proliferated is hard to determine, but its root cause is, put simply, overuse -- especially at the youth level. Managers in the major and minor leagues tend to be ever-vigilant about pitch counts and innings limits, but Little League players are throwing year-round in their early teens, with an added emphasis on velocity. They're straining ligaments and having surgery earlier than ever before, with an increased risk of needing multiple surgeries by the time they're pitching in the majors.
That's easy to see in the likes of Stephen Strasburg and Matt Harvey -- flamethrowers whose hype has followed their talent since high school. Strasburg underwent Tommy John surgery in 2010, just a year after his rookie season, but has returned to form since, throwing heat deep into games while adhering to a strict pitch count and innings limit in his first season back. Harvey opted for Tommy John over rehab this past offseason and will look to repeat last year's success when he returns to the mound in 2015.
Nova, however, isn't your typical Tommy John candidate. As Sports Illustrated's Tom Verducci noted last week, Latin American pitchers have a much lower incidence of the surgery, probably because they don't have the strain of year-round Little League tournaments and showcases. Nova hasn't had a particularly heavy workload, either; since debuting in the Yankees' farm system in 2006, he's never reached 200 innings pitched in single year. It could be an issue with his motion: According to FanGraphs, 36.7 percent of his pitches in the majors have been either the curve or slider, which the conventional wisdom says is bad for elbows. Yet in a post last month, Carroll adeptly asserts that this thinking is flawed.
Whatever the cause, it typically takes around 12 months to recover from Tommy John surgery, and the Yankees will have to figure out how to fill the hole in the middle of the rotation for the remainder of this season. For now, that stop-gap will be Vidal Nuno, who will take over as the Yankees' fifth starter after throwing five shutout innings on just 69 pitches in Sunday's spot start. Nuno doesn't throw particularly hard and relies on precision and movement to compensate, which isn't all that conducive to a season-long starting role. He can throw a backdoor curve or a fastball on the black for a called strike three, but with his velocity topping out at 90 miles per hour (on a good day), he's not going to be able to reach back and blow hitters away when his off-speed stuff isn't working.
That said, there are some mild encouragements to come out of Yankeeland in recent days. Teixeira doesn't look so lost at the plate in his two games since coming off the DL, and the imminent return of closer David Robertson is more than welcome as the team tries to navigate this dystopian, post-Mariano Rivera world. The season began with the infield falling apart, and now the team must patch together a rotation. Perhaps Carlos Beltran can learn to throw a slider between impromptu first-base drills.
This column does not necessarily reflect the opinion of Bloomberg View's editorial board or Bloomberg LP, its owners and investors.
(Kavitha A. Davidson is a Bloomberg View columnist who writes about sports. Follow her on Twitter at @kavithadavidson.)

To contact the author on this story:
Kavitha A Davidson at kdavidson19@bloomberg.net
To contact the editor on this story:
Toby Harshaw at tharshaw@bloomberg.net
Before it's here, it's on the Bloomberg Terminal.
LEARN MORE