Insider-Trading Tipper Fares Better Than Tippees
An insider-trading tipper fares better than the people who traded on his tips.
by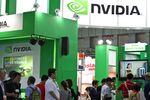 A loop has been closed in a long-running insider-trading investigation by the government. Chris Choi, a former employee at Nvidia Corp. whose tips to a friend set in motion a flurry of trading at several hedge funds, has agreed to settle fraud claims by the Securities and Exchange Commission.