How to Lose in Ukraine
If the West and Russia can't calm tensions in Ukraine soon, everyone will lose.
by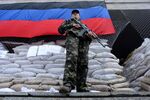 Having failed on several occasions to calm tensions in Ukraine, Russia and the West are being pushed by a deteriorating situation into a rapidly narrowing set of options. In coming days, the outlook will seem particularly complex, and the outcome could be bad for all involved.
Viewed from Western capitals, no combination of carrot or stick seems capable -- at least so far -- of deterring Russia and President Vladimir Putin from interfering in Ukraine. The annexation of Crimea has been followed by spreading instability in eastern Ukraine that the West insists is driven, at least in part, by Russia.
Viewed from the other side, there are few justifications for the West's interference with what Russia sees as its legitimate national and regional interests. The last thing Moscow wants is a Kiev government overwhelmingly aligned with the West. It views the West as not particularly credible when it comes to translating its threatening rhetoric into action.
The longer the stalemate continues, the greater the risks to Ukraine's internal stability, and the bigger the financial bill that the West will have to pay, now and down the road, if it wishes to help Ukraine avoid a financial crisis and a subsequent economic implosion.
Absent some unanticipated resumption of serious negotiations, the West may be forced to use the means at its disposal to get Russia's attention. It certainly does have the means, but it cannot resort to them without incurring significant costs and disruptions.
The urgent and tricky decision facing Western governments is not whether they should expand the list of individuals subject to sanctions -- they already have reason to do so. It is whether they should use the authority in place to sanction entire sectors. If they do -- and the probability is increasing every day -- they also must decide how far to go in targeting highly sensitive areas, particularly energy and finance.
No doubt, robust Western sectoral sanctions on energy and finance would hurt the Russian economy. Exports would decline sharply, companies would face great difficulties in arranging cross-border payments, and shortages would spread -- all of which would lead to a significant economic contraction and rising inflationary pressure.
Inconveniently for Western leaders, however, it would only be a matter of time until their countries felt the blowback. Western Europe would be hit particularly hard because it is Russia's largest trading partner. Also, officials in Moscow would probably retaliate by imposing their own sanctions, disrupting the crucial supply of energy. This could tip the region into recession and reverse progress made in restoring financial stability.
In more typical circumstances, these are the sorts of trade-offs that tend to focus minds, bring bickering parties back to the negotiating table and encourage them to find constructive compromises. Quite often, more powerful third parties facilitate the process. Conditions on the ground can be contained until all have satisfied their appetite for the prior, very public, game of chicken.
This is not the case today in Ukraine, where time is of the essence. The country faces an ever-growing challenge of maintaining its internal cohesion and territorial integrity. Governance functions are gradually devolving from central authorities to much less organized local interests.
The bottom line is both simple and consequential. Russia and the West need to iterate quickly to an approach that durably contains tensions in Ukraine. Should they fail to do so, and do so rapidly, they will increasingly forfeit control over deteriorating conditions on the ground, thereby raising the probability of a lose-lose-lose-lose outcome -- for Ukraine, for Russia, for the West and for the global economy.
To contact the author on this story:
Mohamed Aly El-Erian at melerian@bloomberg.net
To contact the editor on this story:
Mark Whitehouse at mwhitehouse1@bloomberg.net
Before it's here, it's on the Bloomberg Terminal.
LEARN MORE