Non-Scandal About Fed, Goldman Sachs Fizzles Out
A lawsuit brought by a former New York Fed examiner, claiming her anti-Goldman Sachs views got her fired, was tossed out by a federal judge. And rightly so. 
by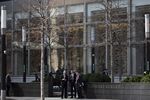 Carmen Segarra, a former examiner for the Federal Reserve Bank of New York, claimed last year in a lawsuit that she was fired because she refused to change her unfavorable conclusions about Goldman Sachs Group Inc. At the time, she proved wildly successful at getting a lot of favorable publicity for herself.
As for her case against the Fed, it didn't make sense. A federal judge yesterday tossed it out of court -- and rightly so.
Segarra's story may have had irresistible appeal to some journalists. Goldman Sachs is one of America's favorite companies to hate. The Fed isn't exactly loved, either. But her complaint contained glaring red flags (which I wrote about at the time) that should have tipped off anyone who read it.
Her core allegations were that Goldman Sachs lacked a proper conflict-of-interest program; that other Fed employees whom she named as defendants had obstructed her examination; and that she was fired because she refused to change her conclusions. At one point she had asserted that Goldman didn't have a companywide conflicts policy at all. However, that was undercut by an exhibit she filed with the court that showed it did.
Among her other assertions was that some Fed officials were worried that public disclosure about the lack of a proper conflicts policy could cause Goldman to "explode." She said that two of the individuals she named as defendants became concerned that an examination of Goldman's policy "might result in findings that could cause a consumer 'run off'." Goldman is a Wall Street investment bank. It has clients, customers and counterparties. But it doesn't have consumers. And there certainly wouldn't be a run on the bank because of this.
The judge, Ronnie Abrams, dismissed the case without expressing an opinion about Goldman's conflicts policy. She ruled that Segarra was not a whistleblower for purposes of the law. The statute she sued under covers people who are fired for revealing violations of a federal law or regulation. However, Abrams wrote, the policy that Goldman allegedly violated was merely a Fed advisory letter that doesn't carry the force of law. So the statute doesn't apply, the judge ruled.
And with that, this scandalette should be officially dead. There's no need to say more. It's gotten too much ink already.
This column does not necessarily reflect the opinion of Bloomberg View's editorial board or Bloomberg LP, its owners and investors.
To contact the author on this story:
Jonathan Weil at jweil16@bloomberg.net
To contact the editor on this story:
Paula Dwyer at pdwyer11@bloomberg.net
Before it's here, it's on the Bloomberg Terminal.
LEARN MORE