view
A Town Called Anti-Semitism
The Spanish village of Matajudios, or Kill Jews, is about to vote to change its names. Expunging "offensive" names, however, is a silly way of messing with history.
by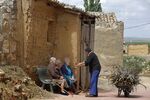 The Spanish village of Castrillo Matajudios has had this name, the second part of which translates as Kill Jews, for hundreds of years. It all started with rescuing Jews, strangely enough: When they were evicted from their homes in a nearby village in the 11th century, they fled here, and the place came to be known as Motajudios, or Jewish Hill. It still has a six-pointed star on its coat of arms, but the name changed -- no one knows whether it was an accidental misspelling or a change of attitude as Jews were chased from Spain in the 15th century.
On May 15, the day of European Parliament elections, the village's 56 eligible residents will vote on changing the town's name back to Motajudios. The outcome is not certain: Locals are worried about all the paperwork, such as changing property titles. Getting rid of the anti-Semitic name seems like a good idea to Lorenzo Rodrigues Perez, the town's mayor. He thinks Matajudios residents will not miss the Jew-killing questions they are invariably asked when they stray far from their birthplace.
I am Jewish, and my advice to the Spanish villagers is, vote "no" to the change.
In South Dakota, the state legislature passed a law against offensive toponyms in 2001. This mainly applied to names that contained the words "squaw" or "Negro"; most of these names are still on the maps because the procedure for changing them in the U.S. is intentionally cumbersome (here are North Carolina's rules as an example). The federal Board on Geographic Names requires public discussion of new names and then coordination with various government agencies to see if they object. While the process drags on, interest groups sometimes have a change of heart. This year, the South Dakota Senate's State Affairs Committee voted to amend the offensive names bill to say that while "squaw" is still off-limits, "Negro" in a place name is all right. The legislators took the lead from local black leaders who said names such as Negro Creek were useful in preserving South Dakota's African-American heritage.
In the 1960s, there was a rush to eliminate the more offensive N-word from U.S. maps, but some were missed in the pre-computer era. There are still plenty of racist appellations left on those maps. They get weeded out gradually, obscuring a past that should perhaps be remembered, sometimes as a warning, sometimes simply as a reminder of how much things have changed.
Hong Kong changed some of its obscene place names back in the 1990s: Ham Lun Kok, or Oral Sex Corner, became Yau Lung Kok, or Swimming Dragon Cape; Fan Kwai Chau, or Foreign Devil's Sex Organ, was renamed Pyramid Rock. Now that the old names are gone, it's harder to remember the ways in which locals mocked British surveyors in the 19th century.
Some place names are, perhaps, uncomfortable for locals to live with, up to the point where they can't get a pizza delivered. Eventually, though, people make peace with living in, say, Crapstone, England; they come to understand that when the towns were named, there was often nothing offensive about the words. Language and history evolve, often in unpredictable ways.
No one in his right mind would think the modern-day residents of Castrillo Matajudios kill Jews. In fact, the anti-Semitic name coupled with the Star of David on the coat of arms might even draw people to the village. Spain's Jewish history is full of tragedy and adventure; for those who want to embark on a tour of that history, a hill in northern Spain could be a good place to start.
To contact the author on this story:
Leonid Bershidsky at lbershidsky@bloomberg.net
To contact the editor on this story:
David Shipley at davidshipley@bloomberg.net
Before it's here, it's on the Bloomberg Terminal.
LEARN MORE