What Blair Gets Wrong on Islamism
Why Tony Blair's call to arms against radical Islam is flawed.
by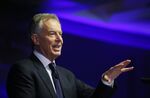 Tony Blair, the former U.K. prime minister, says the world fails to understand the challenge posed by radical Islam. He believes we need to "take sides" with those Muslims who favor modernity and join their fight.