Pesek on Asia: The Biebs Loses a Billion Fans
William Pesek's take on some of the stories driving the debate in politics, finance and social issues across Asia today.
by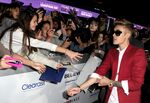 Good morning. Here's my take on some of the stories driving the debate in politics, finance and social issues across Asia today:
How to lose a billion Beliebers.
Pop superstar Justin Bieber is no stranger to controversy. History is another story. The Canadian singer set off howls of outrage in South Korea and China today after he posted two pictures of himself visiting the controversial Yasukuni Shrine in Tokyo, which honors Japanese war dead, including 14 Class A war criminals. The Instagram pictures were quickly deleted -- and with good reason. Even Japanese Prime Minister Shinzo Abe's offering of a shrub to mark the shrine's spring festival this week drew slashing attacks from Chinese officials. Bieber's blunder probably won't start a war between Canada and China, but his following on the mainland just got a whole lot smaller. "We love u but we love China more," warned one Belieber.
Singapore's half-time mood.
Prime Minister Lee Hsien Loong's government is getting mixed reviews from its 5 million people halfway through its latest term in office. Good marks on caring for the elderly, the poor and easing housing-related concerns; weaker ones on Singapore's transportation system and the influx of foreign workers. This last issue should raise red flags with Lee's government. Importing talent is the key to Singapore's economic success and any move to clamp down on immigration could have negative side effects. Clearly, Lee needs to work harder to sell his people on the benefits of open borders.
An unwelcome stay at ' Hotel Mongolia .'
Mongolia has investors thinking of an old Eagles classic -- "Hotel California." Rock and roll fans will know that's a surreal place that's lovely to stay at, but just don't expect to ever be able to leave. Sadly, that's become reality for all too many foreigners who've flocked to Mongolia to bet on its resources boom in recent years. This lively piece by my Bloomberg colleagues Michael Kohn and Yuriy Humber details how roughly 50 accountants, bankers, charity workers and miners are having trouble leaving the place and what it says about one of Asia's hottest frontier economies. Welcome to the "Hotel Mongolia."
Forget China's hackers . Russia is real threat.
Turns out, China's computer hackers aren't the ultimate threat to American companies and government networks. Sure, a small army of programmers in the most populous nation are doing their daily worst to penetrate Web defenses in the U.S., which is by far the biggest target of cyber-espionage. But as this Foreign Policy piece explains, Russia is rapidly replacing China. "That," writer Shane Harris argues, "may come as unsettling news for Obama administration officials, who have been watching warily as Russian forces in Ukraine have incorporated cyber spying and warfare alongside conventional military strikes in their swift takeover of Crimea and what looks like an increasingly likely invasion of eastern Ukraine."
No climbing for rich foreigners.
The fallout from a tragic avalanche on Nepal's Mount Everest on April 18 that left at least 13 dead continues to spread far and wide. Oddly, lots of the attention has focused on wealthy adventurers whose plans to climb the world's highest peak went awry, much to the dismay of some climb organizers. Count New Zealander John Gully, founder of Everest Treks, firmly among those who think the families of the fallen sherpas deserve more sympathy. He doesn't "give a damn about the plans of wealthy white men," who are hardly the real victims here.
This column does not necessarily reflect the opinion of Bloomberg View's editorial board or Bloomberg LP, its owners and investors.