No, Aereo Won't Create the Perfect TV
If Aereo wins its case at the Supreme Court, consumers would face an even more fragmented TV landscape.
by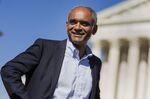 My ideal TV-watching setup is fairly straightforward: I want to watch what I want, when I want, without too many remotes or too high of a bill. While many feel the online TV service Aereo would shake up the moribund broadcast industry, it's more likely that if the company wins its case at the Supreme Court, consumers would face an even more fragmented TV landscape.
The rise of online TV has made progress in the direction of true customizable viewing: Netflix and Amazon Prime, along with devices such as Apple TV and Roku have revolutionized how people consume content on their TVs, computers and, increasingly, their mobile tablets and phones.
Aereo promises to disrupt traditional TV even more. It uses tiny remote antennas to capture broadcast signals and deliver them to subscribers via the Internet to watch live (with a few seconds delay) or record for later. Broadcast networks argue that the service, which costs $8 to $12 a month, violates copyright law by rebroadcasting their signals. Aereo claims its subscribers are the ones transmitting their own individual signals; it's just a high-tech tool that allows them to do so.
Let's set aside for the moment the complicated issue the court is parsing about whether Aereo's service should be considered pick-pocketing. For the purpose of this piece, I'm focusing on access element to the debate.
Aereo appeals to the rising number of TV cord-cutters, those budget-conscious, tech-savvy consumers who used to pay for cable but have since snipped the connection and turned instead to streaming services, and cord-shavers, those who have trimmed the amount of money they spend on subscriptions. And then there are the cord-nevers, a generation that has never subscribed to pay TV.
Among my friends, I'm the rare cable subscriber -- and I'm thinking of cutting the cord when my contract is up. I've watched live TV exactly twice in the last year: during the Super Bowl and during the Oscars, with my cord-never friends squeezed beside me on the couch. With Aereo, I could select just those shows to stream live. TV a la carte!
Yet even if Aereo wins the case, the supreme TV watcher would still need several services and streaming options to get a full menu of options. Navigating the current overlapping streaming TV services and tools can be complicated and expensive. Exclusive streaming deals segment content even more. HBO and Amazon, for example, just signed an exclusive deal to bring some HBO shows to Amazon Prime. Aereo gives you access to broadcast channels -- not cable channels, and not, contrary to what Justice Antonin Scalia might think, services like HBO.
So how would an Aereo legal victory make things more complicated? Let's imagine the Supreme Court signs off on Aereo's innovation in its decision this summer: What's to stop broadcasters from pulling their over-the-air content from cable companies and offering it independently? CBS Chief Executive Officer Les Moonves recently said he would consider putting shows directly on cable, "forming our own Aereo with other networks." Fox has also said it might convert the broadcast network to a pay cable channel. The National Football League and Major League Baseball have threatened to move their broadcasts to pay TV, too. (That's not to say they will follow through, or that doing so would make sense from a profit standpoint -- this is their way to back the broadcasters.) What if Netflix or Amazon added live broadcast to its menu of options?
It's inevitable that traditional TV will change. Let's just hope that as it does it offers more choices and fewer headaches for the user.
This column does not necessarily reflect the opinion of Bloomberg View's editorial board or Bloomberg LP, its owners and investors.