Manchester United Stock Puts Price on Leadership
Manchester United, the world's second most valuable sports franchise, showed the importance of strong leadership when it fired a defeatist manager and saw its stock price leap.
by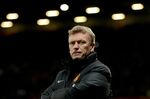 Manchester United isn't just a soccer club: It is the second most valuable sports team in the world and a rare sports franchise to have had the courage to list on a U.S. stock exchange. The club's share price is near its peak after the firing of manager David Moyes, showing just how important the leader's personality can be to the value of a business.