Happy Anniversary to China's [Censored] Internet
According to official propaganda, two decades after the founding of the Chinese Internet, the billions about to be earned by Alibaba are all the proof that a Chinese official should need to support continued online censorship.
by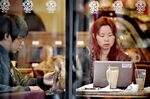 Twenty years ago this week, China became the 77th country to connect to the Internet. It was a late and modest start -- a single network in Beijing's then-outskirts made the connection -- but growth since then has been spectacular. China is now home to the world's largest population of Internet users. Its social media platforms are some of the world's most innovative. And its premier online marketplace -- Alibaba -- is about to launch what will probably be this year's most valuable initial public offering.
If these were the only tales to tell about the Chinese Internet, this anniversary would be worth celebrating. But, of course, each of these triumphs took place against a backdrop of stifliing censorship that has limited free expression in China and inspired autocratic regimes around the world. Indeed, according to a timeline posted by the state-owned Shanghai Daily, the first major effort to regulate the Chinese Internet occurred less than four years after it was founded.
Little has changed since then. Online censorship has increasedmore in President Xi Jinping's short time in office than it did during his predecessor's 10-year reign. The clampdown has been driven by several factors, including a not-unwarranted view (thanks to Edward Snowden's revelations about National Security Agency's targeting of China) that the Internet has become a new front in modern warfare. On Monday, People's Daily, the official mouthpiece of the Chinese Communist Party ran an editorial that invoked cyberwarfare, Snowden and the Prism electronic surveillance program as just a few of the reasons to continue China's censorship program. "Just as no country can hope to modernize without strong governance," the paper wrote, "we can't develop into an Internet power without improving cyber governance, as President Xi has advocated."
Happily for Chinese editorialists and propagandists, this bleak view of the Chinese Internet is counterbalanced by the successes of companies like Alibaba, and the hundreds of millions of Chinese who enjoy the Web for reasons other than politics. (Celebrity gossip, sports and entertainment remain the most consistently popular topics on Chinese social media.) As Xinhua, China's state newswire, noted in an English-languageeditorial(that is, an editorial meant for foreigners), this is hardly what many Western Internet evangelists predicted:
Twenty years after the world's most populous country gained access to the Internet, China has been fundamentally and irreversibly changed, but not in the way some Western prophets had expected.

Instead of bringing collapse, the Internet in China is becoming more commercially robust and innovative despite the unique Chinese way of management.
The use of "despite" in the last sentence is critical, but not in the way that it might at first seem. True, it's an acknowledgment that censorship has costs. But the more important point being made is that the benefits outweigh the costs. According to this logic, the billions about to be earned by Alibaba on Wall Street are all the proof that a Chinese official should need to support continued online censorship. "This way of Internet management, itself a Chinese innovation," Xinhua writes, without a hint of irony, "has not stifled the creativity of the Internet as some had predicted."
This is a debatable point. In January, for example, Bloomberg News ranked Taiwan, a renegade province in the eyes of China and the home of an uncensored Internet, No. 1 in the world for patent activity; China was No. 4. To be sure, the factors that go into generating patents extend well beyond beyond Internet freedom. But overall intellectual freedom -- which a free Internet encourages -- obviously plays a substantial role.
Alas, from the perspective of the Chinese government, the relative success of Taiwan (or the U.S.) is beside the point. What matters is that on this celebrated anniversary, some rhetorical groundwork is laid for the extension of an online censorship policy that the government has absolutely no intention of changing.
This column does not necessarily reflect the opinion of Bloomberg View's editorial board or Bloomberg LP, its owners and investors.