What Happens in Vegas Won't Be the Party Conventions
Wherever Republicans and Democrats pick for their nominating celebrations, it won;t be Sin City. 
by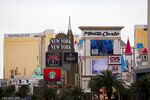 The silliest news being presented with a straight face is that both Democrats and Republicans are considering Las Vegas for their 2016 conventions.
CNN said today that the gambling Mecca is one of 15cities contending for the Democratic National Convention. It also is one of six supposed finalists for the Republican side.
The odds of this happening are infinitesimal. I love Las Vegas, but no political party is going to hold their national convention there. There's no upside, and the list of things that could go wrong is...well, where to begin? The main point of conventions is advertising, which means the parties want their control of the stories on the networks, cable news and everywhere else to be as tight as possible. They don't want stories about the state party treasurer at the craps tables or the delegates at the after-hours parties. Or worse.
So why is Las Vegas a prominent "contender?" Why not? If it submits a good bid, it puts pressure on the other cities. And, to the extent that it matters, the parties get to show a little good will toward a marginal swing state. Not that it's going to affect who gets elected president; indeed, there's no substantial evidence that it matters where the convention is held. However, national party officials need to deal with their state counterparts all the time, and perhaps holding out the possibility of a perk makes it easier.
Unless you're planning to attend (or live in one of the possible host cities), there's really no reason to care where the conventions take place. It's not quite like asking whether TV ads will be edited in Washington or New York, but it's pretty close. But unless one of the parties is far more foolish than we can imagine, it won't be in Las Vegas.

This column does not necessarily reflect the opinion of Bloomberg View's editorial board or Bloomberg LP, its owners and investors.