Warriors Are the Latest Team to Outgrow Oakland
Oakland just lost a sports team to San Francisco -- and for once, I'm not talking about the A's.
by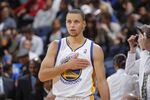 Oakland apparently just lost a sports team to San Francisco -- and for once, I'm not talking about the A's.
The San Francisco Chronicle reports that the Golden State Warriors have purchased a 12-acre parcel of land in Mission Bay to build a new 18,000-seat basketball arena. The Warriors have been looking to move for more than a year now, with their lease at Oakland's Oracle Arena set to expire in 2017. Last February, the team announced its plan for a waterfront arena near the foot of the Bay Bridge. Critics denounced the plan because of concerns about traffic, environmental impact and obstructed views of the bridge, and vowed to put the proposal on a ballot.
The shift to Mission Bay allows the team to skip the vote and should ease traffic concerns, with four street access points and the eventual convenience of direct public transportation access when the Central Subway is completed in 2019. Unlike the piers near the Bay Bridge, Mission Bay is a redevelopment area that officials hope will be aided by the new arena. Notably, the Warriors will own the arena outright and construction will be entirely privately financed, a welcome show of corporate and municipal restraint at a time in which most cities and teams gouge taxpayers of millions for shiny new homes.
The plan seems to be a fair compromise out of which both the team and the city of San Francisco will benefit. It's also yet another hit to Oakland, the Bay Area's ugly step-sister who just can't seem to keep her teams around. The A's suffer greatly from living in the shadow of the San Francisco Giants and are so desperate to flee the town and their decrepit stadium that it could lead to a Supreme Court challenge of Major League Baseball's antitrust exemption.
The Warriors' move doesn't come as a surprise -- they've been intent on leaving for more than a year now, indubitably to take advantage of the much greater television and consumer market in San Francisco. It's also a return to the city that housed the team for nine years beginning in the 1960s. But the land purchase further demonstrates the big market-small market divide, even in a salary-capped, parity-boasting league such as the NBA. With a young superstar in Stephen Curry, the desire for a bigger stage makes sense for both team and player, who, incidentally, put his $1.7 million Oakland penthouse up for sale last October, moving his family the suburbs. It seems everyone outgrows Oakland sooner or later.
This column does not necessarily reflect the opinion of Bloomberg View's editorial board or Bloomberg LP, its owners and investors.