The Elizabeth Warren Standby Sort-of Candidacy
Massachusetts senator denies she's running, but is she keeping her options open?
by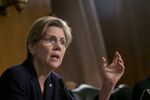 I know, Elizabeth Warren says she's not running for president, and many find it annoying that people won't let it go. Even so, it's time to take a look at this one.