More Is Better With Senate Forecast Models
Predictions add value, even when they overlap.
by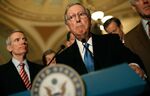 The (excellent) new New York Times analysis section, The Upshot, began today with, among other things, a Senate forecast model. It looks fine, and the presentation is terrific.
Do we need another Senate forecast model? This one tells us pretty much the same thing as the Nate Silver and the Sides/Highton/McGhee models: control of the Senate appears to be a toss-up. Still, the more information the better:for consumers of the news. A range of reasonably constructed forecasts increases the chances that the consensus is basically accurate.
I went over what the models are telling us about 2014when the FiveThirtyEight version began. Here's a quick reminder: While Barack Obama's weak approval ratings are likely to hurt Democrats in November, the Senate 2014 story is about opportunities for Republicans produced by the big Democratic landslide in 2008, combined with a cycle that puts in play a set of states that are good for Republicans. (Note that so far, most analysts expect Democrats to gain in gubernatorial races, for which "last time" was 2010, not 2008.)
The other key point is that "toss-up" means both parties have an equal chance at Senate majorities. That's not the same as saying that the 114th Senate will be closely divided; it's still possible that one side will wind up with a comfortable margin.
The way to understand these predictions isn't by applying the premise of "if the elections were held today," or even "here is what we expect to happen in November." Instead, the predicate should be "here is what to expect in November if current conditions and predictable trends currently in motion continue to hold."
There are two types of uncertainty:the uncertainty in the predictions themselves, which will exist even when we have full information in early November, and the uncertainty about whether current conditions (including currently expected conditions) will hold. Good models can make precise estimates of the former; the latter are guesses. There's no way to predict whether Obama's approval ratings will move up to 50 percent by November -- or crash to the mid-30s. How likely is it that an obscure Tea Party candidate will win somewhere? Or that a seemingly solid candidate goes off the rails? There's no way of estimating the latter, and primaries are volatile enough that estimating the odds of the former is more guesswork than science.
As the year progresses, that second type of uncertainty fades away. And by November, all we really want to know (as The Upshot tells us) is what the polls say. For now, good forecast models give us an excellent base to work from, not a final answer.

This column does not necessarily reflect the opinion of Bloomberg View's editorial board or Bloomberg LP, its owners and investors.