India and Indonesia Pursue Different Economic Paths
Indonesia may gain in the next few weeks what India may not until the next general election: a leadership compelled by disgruntled masses to focus on growth as a means of creating jobs, not just as a playground for plutocrats.
by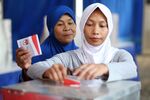 India and Indonesia, relegated to the ranks of the "fragile five" economies, have witnessed a sudden uptick in foreign investment as they go to the polls. Financial markets have responded exuberantly to the prospect of Narendra Modi and Joko "Jokowi" Widodo assuming power in New Delhi and Jakarta, respectively, where they are expected to initiate more "reforms" -- a much-bandied-about word that in this context means enhanced opportunities for quick profit-making. Contrary to what punters seem to think, Modi and Jokowi do not share much, let alone an economic vision.