How the Fed Could Say What It Means
Forward guidance, where central banks steer expectations about where interest rates are headed, isn't working very well in either the U.S. or the U.K. The solution is pretty simple. 
by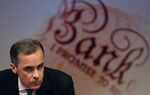 Forward guidance, a technique whereby central banks try to steer the expectations of consumers and investors about where interest rates are headed, isn't working as well as it might in either the U.S. or the U.K. The solution is pretty simple, and has already been successfully road tested in Norway and Sweden.
It turns out that tying the path of monetary policy to fixed parameters such as unemployment rates can swiftly go awry. Both the Federal Reserve and the Bank of England have had to abandon jobless targets; labor-market improvements arrived before their economies have sufficient gusto to weather higher borrowing costs, somewhat denting the credibility of the road-mapping exercise.
Fed chief Janet Yellen has spent her early days at the helm of the world's biggest economy backtracking from the comments she made at her first press conference on March 19. Then, as well as ditching the 6.5 percent unemployment condition for considering higher borrowing costs, she said interest rates would start rising "around six months" after the Fed stops buying bonds. Traders interpreted that to mean she would tap the brakes by mid-2015. Last week, she said the economy will take at least two years to meet the Fed's goals.
In the U.K., prospects for an early arrival of a sub-7 percent jobless rate meant guidance crafted in August by central bank Governor Mark Carney had already been watered down by February. Otherwise, last week's 6.9 percent figure would have had policy makers nudging the up arrow on official rates.
So quantitative easing is now accompanied by qualitative guidance. The Fed says it will monitor "a wide range of indicators." The Bank of England has ditched its threshold-based approach in exchange for a suite of pointers. Neither of which really provides much concrete guidance.
Instead of dropping hints and winks and clues about the future direction for borrowing costs at two or three degrees of separation, it would make more sense for all central banks to tell the world what their economic forecasts are, how each of those inputs are currently influencing policy, and to publish their best guess as to where they will be setting interest rates for the next few years.
That's how the central banks of Norway and Sweden operate. Since 2005, the Norwegian central bank has published its own forecast for where official interest rates are headed, along with inflation, unemployment and growth. When the interest-rate path changes, the bank explains why it has reacted to economic data.

So the forecast is conditional; it changes over time. And if, for example, I reckon the central bank is wrong about inflation, I can anticipate that my better forecast about where consumer prices are headed will move the rate path once I'm proved right.
The Fed already has the tools available to do this. It publishes year-end targets for the fed funds rate in the form of a dotted diagram:

Currently, however, the central bank says it prefers to communicate its intentions through words rather than numerical prediction. "One should not look to the dot-plot, so to speak, as the primary way in which the committee wants to or is speaking about policies to the public at large," Yellen said in March, adding that the contents of Fed statements should take precedence over the forecasts.
Central banking has come a long way since the apocryphal quote often misattributed to former Fed Chairman Alan Greenspan: ``I know you think you understand what I said, but I'm not sure you realize that what you heard is not what I said.'' If the goal really is transparency, the Nordic model has a lot going for it.
This column does not necessarily reflect the opinion of Bloomberg View's editorial board or Bloomberg LP, its owners and investors.