Deflation Is About to Wallop Europe
Real gross domestic product growth in the euro area is only 0.9 percent annually, well below the 2.3 percent in the U.S. Does the euro really deserve to be strong against the greenback?
by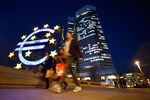 The euro has been defying gravity for years. Europe's Teutonic North and Club Med South were joined under one monetary policy. But the 18-member euro area has no common fiscal policy and probably never will, given its vast cultural and economic differences. This hardly makes the euro a safe-haven currency.
After dropping from 1.60 per U.S. dollar to 1.20 during the global recession, the euro has risen to 1.38. And that's despite Europe's follow-on recession, which began in the fourth quarter of 2011 and lasted six quarters. Real gross domestic product growth since then has averaged only 0.9 percent annually, well below the 2.3 percent in the U.S. Does the euro really deserve to be strong against the greenback?
It is true that the financial crisis has abated since European Central Bank President Mario Draghi said in July 2012 that the central bank was "ready to do whatever it takes" to preserve the euro. Since then, the yield on 10-year Spanish government issues dropped from a junk-bond level of 7.6 percent to 3.1 percent, close to the 2.6 percent yield on the 10-year U.S. Treasury note. Italian sovereigns, meanwhile, have fallen from a 6.6 percent yield to 3.1 percent.
The days of euro strength may be numbered, however, because of mushrooming fears of deflation in Europe. Average house prices in the euro area have dropped 5 percent since the second quarter of 2011. More important, inflation increased a mere 0.5 percent in March from a year earlier. Since January 2013, inflation has been below the ECB's target of "just under 2.0 percent." In the 28-country European Union, inflation was just 0.6 percent in March versus a year earlier.
Bankers and policy makers worldwide are deeply worried about trivial inflation in the euro area turning into chronic deflation. Christine Lagarde, the chairman of the International Monetary Fund, said in a January speech: "We see rising risks of deflation, which could prove disastrous for the recovery. If inflation is the genie, then deflation is the ogre that must be fought decisively."
This month, Olivier Blanchard, the IMF chief economist, said deflation "would make the adjustment both at the euro level, and even more so for the countries in the periphery, very difficult. We think that everything should be done to try to avoid it."
Kenji Yumoto, vice chairman of the Japan Research Institute Ltd. and a former adviser to the Japanese government, said recently that the Bank of Japan "didn't think Japan was going to be entangled with deflation" until it was too late. "The ECB still can't be complacent. Europe is lucky to have Japan's case study," he said.
Japan really was behind the curve. In 1998, the BOJ said in its monthly report: "At present, there is no reason to expect that overall prices will drop sharply and exert deflationary pressure on the entire economy." But the consumer price index had already started to drop as far back as late 1994. It has declined in most of the years since then.
Also this month, Charles Evans, president of the Federal Reserve Bank of Chicago, said in a speech that "Below-target inflation is a worldwide phenomenon, and it is difficult to be confident that all policy makers around the world have fully taken its challenges on board."
The ECB has joined this throng of deflation worriers, with some policy makers, including Draghi, becoming apprehensive over prolonged low inflation. The Austrian central bank governor, Ewald Nowotny, who is on the ECB governing council, recently said he is concerned about "the risks of excessively low inflation." Another governing council member, Bank of Finland Governor Erkki Liikanen, said last month, "If inflation is low for very long, it creates a challenge because deleveraging will be harder. We must be aware of that risk."
In parts 2 and 3 of this series, I will explain why central bankers fear deflation and what the ECB should do to head it off.
This column does not necessarily reflect the opinion of Bloomberg View's editorial board or Bloomberg LP, its owners and investors.
To contact the author on this story:
A Gary Shilling at insight@agaryshilling.com
To contact the editor on this story:
Paula Dwyer at pdwyer11@bloomberg.net
Before it's here, it's on the Bloomberg Terminal.
LEARN MORE