Bill Ackman Gets Into the Hostile Takeover Business
by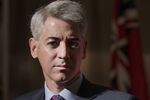 Bill Ackman made my day yesterday by announcing that he, along with Valeant Pharmaceuticals, wants to buy Botox maker Allergan Pharmaceuticals. Or, I guess, that Valeant wants to buy Allergan, and Pershing Square is along for the ride. And that Pershing Square has already bought a big hunk of Allergan, taking Valeant along for that ride.
It is such a neat trick! The stock closed yesterday at $142, and is trading north of $160 now, but Pershing and Valeant bought 28.9 million shares at an average price of $129.28, meaning that they had over $300 million in paper profits last night. But that's just an appetizer; the real trick is that Valeant intends to acquire the whole company, and at a premium. Here is the acquisition proposal, offering $48.30 in cash and 0.83 shares of Valeant stock per Allergan share; based on a Valeant stock price of $132.17 as of around 10:30 this morning, that gets you $158 worth of stuff per Allergan share. If the deal goes through at that price, buying this toehold saved the Valeant/Pershing group over $800 million. 1 Not bad!
More important (maybe?), now they have 9.7 percent of Allergan's shares, which they can vote in favor of their deal, making it more likely that the deal will happen and less likely that someone else will come in to outbid them. 2

The Pershing/Valeant deal is pretty complicated so let's talk details in the footnotes. 3
Up here, the main question is, why doesn't everyone do this? I mean, it is a free $800 million; why wouldn't you take that much free money? Companies all the time go around announcing acquisitions, at a premium, where they own zero percent of the target. If you do an acquisition at a 20 percent premium, and you buy 10 percent of the target before announcing it, you save 2 percent. That will pay your bankers' fees right there! Why not always do this?
One stupid answer is, "because this is insider trading." No! Insider trading is trading on material nonpublic information in violation of a duty of confidentiality. It's not illegal to trade while knowing your own intentions, even if your intentions are material. If Bill Ackman is planning to buy 9 percent of Allergan, he can buy the first 1 percent, even though he knows that he'll eventually buy more and it'll be a whole big public thing. And -- this is true -- if Valeant is planning to offer to buy 100 percent of Allergan, it can buy 9 percent first before announcing its intentions publicly. This is straightforwardly the law.
This situation looks weird because it's a combination of those two situations, but it shouldn't. Ackman isn't stealing Valeant's inside information, and Valeant isn't stealing Ackman's. They have an explicit agreement on how they're going to proceed, and that agreement contemplates buying a bunch of stock in advance. 4 And, yes, shareholders who sold will be sad, but that's how markets work; all sellers necessarily run the risk that the buyer values the asset more than they do, and is right.
So why don't acquirers do this more often? Well, they did, in the 1980s. "Toeholds" like this were a common tactic, both to reduce the total cost of an acquisition and to get some votes on the acquirers side. But they fell out of fashion as hostile deals generally got less common. A toehold is necessarily a hostile maneuver: It surprises the target board, 5 it creates pressure to sell, and in some loose sense it takes advantage of the shareholders who sold to you, since if they'd just waited until the official announcement they could have sold at a higher price. That's how markets work -- absent fraud, you can't complain that you sold at a lower price before someone offered a higher price -- but target company boards tend to like it when all their shareholders are treated equally so it doesn't feel great for them. 6
But now, after some time off, hostile takeovers are back. But they haven't yet brought back all of the 1980s technology that went with them. So these days you sort of can't imagine a corporate acquirer like Valeant actually doing something like this on its own. Just, like, the dumb mechanical process of calling up a broker and saying "we'd like to buy $4 billion of Allergan stock": Do you think Valeant even has a stock trading account with a broker? What happens when its broker gets that call? That's an M&A assignment, isn't it? Shouldn't the broker be running conflicts and kicking it upstairs to the corporate-finance department? It just seems like a cumbersome, insecure, front-runnable process.
Pershing Square calls its brokers and buys 9.7 percent of companies all the time; that's its business. 7 It makes sense for Pershing Square to subcontract out that work for corporate acquirers; it might make sense even if Pershing wasn't putting up any money, as a strictly agency service.
And it's not just account mechanics either. Pershing Square, being in this business, has basic knowledge like how to buy sneakily to minimize price impact, how to buy as much as possible while still complying with Section 13D reporting requirements, and how to avoid triggering antitrust reporting requirements. Avoiding Hart-Scott-Rodino antitrust reporting -- which would alert Allergan to their buying and could delay purchases by 30 days 8 -- is the first requirement of the joint acquisition agreement, and Pershing did it by buying most of its shares via over-the-counter equity options and forwards. These have the economic effect of buying shares -- and can be transformed into shares by making the HSR filings before any shareholder vote -- but didn't trigger an HSR filing while Pershing/Valeant were buying. Activists have long known how to do this, but corporates, not so much. Do you think Valeant has ISDAs with dealers to do over-the-counter equity options?
So it makes sense to partner with an activist to do a deal like this -- and, for Pershing Square, it makes sense to partner with Valeant, a swashbuckly serial acquirer.
The partnership division is interesting too. Simplistically, Pershing Square gets the economic benefit of the toehold buying -- all but $75.9 million of the toehold shares are for its account, and if the deal goes through it gets to buy $400 million more of Valeant stock at a discount -- while Valeant gets the deal benefit, requiring Pershing Square to vote for its acquisition proposal and elect to take shares in the cash/stock deal.
But there are fun little curlicues on that economic split. In particular, if there is a topping bid, Pershing Square agrees to pay 15 percent of its gains on its Allergan stock to Valeant. 9 So if Allergan ends up selling for $170 a share, Pershing will pay Valeant $150 million or so of its $1+ billion profit. Pershing Square is effectively guaranteeing Valeant a smallish, but still pleasant, breakup fee to induce it to make an offer for Allergan. It's much more appealing to make a hostile bid if you know you'll get something for your efforts even if you lose, which is another benefit of the toehold strategy.
Still you could find some negatives to this strategy. For Valeant, well, you've just invited a big activist investor to take at least $1.5 billion of your stock -- and probably more like $4 or $5 billion worth -- for at least a year. 10 Presumably Valeant and Pershing have sounded each other out and decided that they'll get along, but still. Lots of companies try to keep Bill Ackman out of their stock.
For Pershing Square, this deal perhaps creates some troubling noise. The insider trading stuff, for one thing, but that is silly. Potential revisiting of the 10-day Schedule 13D window, for another: If enough Allergan sellers feel aggrieved that they sold in the $120s days before a hostile takeover offer in the $150s or so, that might create pressure on regulators to limit the amount of secret buying that hedge funds can do. That would be bad for Pershing Square's business. (Update: See related disclosure-timing thoughts from Jonathan Weil here at Bloomberg View, and Steven Davidoff at DealBook.)
It would be dumb, though, too. The 9.7 percent of Allergan shareholders who were willing to sell in the $120s don't have much cause to complain, and the 90.3 percent of Allergan shareholders who got the benefit of Ackman's and Valeant's actions -- and a stock price currently in the $160s -- should be thrilled. This seems like a pretty straightforward case where an activist investor's ability to secretly accumulate a big stake in a target company has been really good for public shareholders. Public shareholders should love this sort of secret accumulation.
I've been using the term "activist," because that's how I think of Pershing Square, but I guess this deal crosses over into "acquirer" or "raider" or whatever territory. And that's perhaps a problem for activists too. Dan Loeb's Third Point fund is currently fighting in court to make Sotheby's get rid of its poison pill, arguing that the only legitimate use of the pill is to fend off hostile takeovers, and that Third Point is just an activist pushing for better governance and has no history of hostile takeovers. Ackman's shift from activist to facilitator of hostile takeovers may make that argument a bit harder.

Still, overall: What a great deal! Good for Valeant and Pershing Square, who saved some money and improved their chances with clever structuring. Good for Allergan shareholders, if price signals are correct, and we all know they are. And good for those who like a little fun in their mergers and acquisitions news. The '80s were fun times for M&A, and with this deal, it feels a little like the '80s are back.
To contact the author on this story:
Matthew S Levine at mlevine51@bloomberg.net
To contact the editor on this story:
Toby Harshaw at tharshaw@bloomberg.net
Before it's here, it's on the Bloomberg Terminal.
LEARN MORE