AT&T Tries to Bully the Government
AT&T has threatened to stay out of the FCC's planned spectrum auction. The commission should stay the course.
by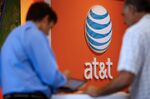 Last week, AT&T Inc. said that if the Federal Communications Commission insists on limiting the number of spectrum licenses a wireless carrier can buy in its planned auction, AT&T might not participate at all. AT&T's overreach should be resisted by the FCC and by the public. We need smaller competing carriers, such as T-Mobile US Inc. and Sprint Corp., to have access to low-frequency spectrum, and the 2015 auction is the last best chance to reach that end.
T-Mobile Chief Financial Officer Braxton Carter has famously called the U.S. wireless sector a "predatory duopoly," with AT&T and Verizon Communications Inc. the predators and Sprint and T-Mobile the prey. Over the last year, AT&T and Verizon accounted for almost all the sector's profits; from 2009 to 2013, the two giants accounted for more than 85 percent of the increase in profits that the sector has enjoyed.
This is a rich-get-richer situation. AT&T and Verizon already have enormous scale, together accounting for about two-thirds of U.S. wireless subscribers, compared with Sprint's 17 percent and T-Mobile's 13 percent. Just as important, the two also have licenses for almost all the low-frequency spectrum.
Signals sent over that spectrum are more easily received inside buildings and in rural areas, and a carrier doesn't have to build the same number of towers that it needs for high-frequency transmissions. As a result, not having access to this spectrum has meant that the two smaller nationwide carriers can't compete on a level playing field.
That's why the Justice Department's Antitrust Division recommended last year that the FCC shape its auction rules to prevent the leading carriers from locking their rivals out of the low-frequency spectrum. The agency acknowledged that more of that spectrum would create greater economies of scale for AT&T and Verizon. But it urged the commission to take into account the risk to consumers if AT&T and Verizon were unconstrained from bidding in markets where they already have vast holdings.
The division knows what it's talking about. After it blocked the proposed merger between AT&T and T-Mobile in 2011, T-Mobile aggressively developed new service plans and other strategies aimed at winning customers from AT&T. The "maverick" carrier (to use the Justice Department's term) offers early handset upgrades, free data for life for tablet users, and pays cancellation fees imposed by other carriers when subscribers switch to T-Mobile.
AT&T has been recruiting influential people to berate the FCC for even thinking about following the department's advice. Even before AT&T threatened to boycott the auction, 77 members of the House of Representatives wrote to the FCC saying that the commission shouldn't screen out bidders in the auction based on their existing spectrum holdings. A letter from senators will likely follow. Think tanks are opining, advertisements are flowing, and the political engine of AT&T influence is churning away.
AT&T's chief argument is that reducing the number of markets in which it can bid for additional low-frequency spectrum will reduce auction proceeds. But a recent Canadian auction that kept the dominant carriers from bidding for prime low-frequency blocks of spectrum resulted in frothy competition among the others, as well as higher auction revenues than anyone had expected. "The auction was a success because the rules were designed to put consumers front and center," Canadian Minister of Industry James Moore said.
The ability to exercise market power in a way that harms both consumers and competition can take many forms. Spectrum holdings create a wide but invisible moat that protects AT&T's and Verizon's wireless dominance, and the FCC is right to hold the line in its auction planning. By threatening to take its ball and go home, AT&T has made it clear that it believes it has the upper hand. It doesn't. The FCC should stay the course.
This column does not necessarily reflect the opinion of Bloomberg View's editorial board or Bloomberg LP, its owners and investors.