Putin Adversary to Obama: We Need You
Earlier this month, I spent an afternoon trying to imagine what it might be like to be prime minister of Moldova.
by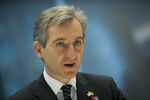 Earlier this month, I spent an afternoon trying to imagine what it might be like to be prime minister of Moldova. I was, at the time, sitting with the actual prime minister of Moldova, which made my task easier, though not by much: being prime minister of Moldova means acknowledging the essential powerlessness of your country.
The prime minister, Iurie Leanca, is a slim, youngish man, 50 years old. He's suave in a way that -- based on my recent, thorough exposure to other Moldovan politicians -- is unusual in the corridors of power in Chisinau, Moldova's capital. Some of the politicians I came across still appeared to be wearing the boxy, shiny suits that they bought (subsidized, I hope) when Moldova was part of the Soviet Union.
Leanca, who is pro-Western and desperately wants his people to share his admiration for Europe and the U.S., has one of the more difficult jobs in Europe. His is the poorest country on the continent; its main export is people. When the Soviet Union collapsed and Moldova gained its independence, the population stood at roughly 4.5 million. Today, hundreds of thousands of Moldovans work abroad, and the country's population might be as low as about 3.5 million.
However, it is not Moldova's economy, but its geography, that causes Leanca the most anxiety. The country, which is situated between Romania and Ukraine, is a bit too close to Russia for comfort. In fact, a small piece of Moldova's sovereign territory today is functionally a part of Russia: the Pridnestrovian Moldavian Republic, better known as Transnistria, a breakaway state that is loyal to Moscow and home to as many as 2,000 Russian soldiers. These soldiers represent remnants of the Soviet 14th Army, as well as members of a "peacekeeping" force, who are meant to assure that the Moldovan and Transnistrian armies stay far away from one another. Given that the Transnistrian army is an adjunct of the Russian army, the peacekeepers are less than neutral. The Transnistrians and the Russians together could easily defeat the Moldovan army in battle, and, given the current Russian predisposition toward land-grabbing, this is more than a theoretical possibility.
Part of my self-assigned role while meeting with the prime minister was to goad him to tell the actual truth about his current untenable situation. So at one point I said, "Russia is always looking to swallow more territory, huh?"
To which he replied, "They have a problem -- they don't have enough of it."
Then he smiled slyly. A discreet diplomat, he said little more on the subject. He had more to say about the Communists who seek to return to power in Moldova's elections this fall. "Our communists -- we call them market Bolsheviks -- they are big opportunists," he said. "They are typical communists in that way. No principles. Whatever suits them best at the moment. They are very good at exploiting divisions in our society."
The primary goal of Leanca's ruling coalition is to build unbreakable ties with Europe. These days his government is working frenetically with the European Union to implement an "association agreement" which would help speed up Moldova's integration into the West. The Communists, who comprise a third of Moldova's Parliament but could see big gains come the fall, are, of course, looking East for salvation.
Meanwhile, the Transnistrians -- who remain Moldovan citizens even though they have claimed independence -- areactively seeking formal recognition from Moscow. For the moment, Vladimir Putin appears happy with the way things are -- with Transnistria as a thorn in a Western-leaning government's side, and a potential launching point for military operations into either Moldova or western Ukraine.
Putin is obviously never far from Leanca's thoughts, so I asked the prime minister what he thought might be the Russian leader's ultimate intentions. "You should probably ask him," he said. "I don't have a chance to talk to him very much."
Until recently, Leanca didn't have much of a chance to talk to American leaders, either. All of this changed when Russia invaded Crimea. Last month, on his latest trip to Washington, Leanca noticed a dramatic difference. The highlight of the visit was a brief, but photographed, meeting with President Barack Obama in the White House.
"I found a very different Washington on my most recent visit," Leanca said. "Probably in normal times President Obama would never come up from his Oval Office into my meeting with Vice President Biden. But he spent seven or 10 minutes with me. Pictures, too. Finally, Americans are paying attention. They know what is happening, and they showed an understanding of how difficult this situation is for us, and they understand that it is their responsibility to prove that this decision [by Russia] to intervene in Crimea was a miscalculation."
Leanca shared a fantasy of his with me -- a four-hour visit by Obama to Chisinau, in which the president would speak directly to Moldovans about the benefits of looking West: "President Obama, spending just a few hours, in a speech in the central square would create a huge impact on people. People want American leadership in the world. We perceive it as a positive."
I asked him if he dreamed of something even more dramatic -- membership in NATO. He shook his head. "Russia has always told us that NATO is the red line. Not the EU, but NATO." He paused for a moment, realizing, it seemed to me, the implication of his statement. "We are neutral by our constitution," he said, "so this is our choice, of course."
This column does not necessarily reflect the opinion of Bloomberg View's editorial board or Bloomberg LP, its owners and investors.