Pop-Up Investment Banks Are the Latest Trend
Paul Taubman, formerly the head of mergers and acquisitions at Morgan Stanley, is now the head of mergers and acquisitions in his kitchen.
by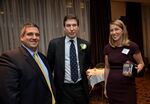 James Stewart's New York Times article this weekend about Paul Taubman contains multitudes, but not multitudes of bankers. There's just one! It's Paul Taubman, formerly the head of mergers and acquisitions at Morgan Stanley and now the head of mergers and acquisitions in his kitchen. 1 But his kitchen keeps busy; he's number 11 in the global M&A league table for the past year, with credits for Verizon's $130 billion acquisition of Vodafone's Verizon Wireless stake and Comcast's bid for Time Warner Cable. 2
And he's apparently part of a micro-trend of micro-advisers that also includes the Zaoui brothers and all those guys named Simon. Stewart:
Bankers have already coined a new catchword for such small firms: "kiosks," as opposed to the somewhat larger "boutiques," like Moelis & Company, founded by Kenneth D. Moelis, which went public this week.

Such arrangements can be fabulously lucrative, since kiosks have little or no overhead but are still paid as a percentage of the total cost of a successful deal. Clients receive the benefit of the undiluted attention of a top merger and acquisition strategist.
Taubman's kiosk, PJT Capital, is in fact pretty lucrative; "he earned more than $10 million on the Verizon deal and may make at least that much if the Time Warner Cable acquisition succeeds," and you could spend all day thinking about what that $20 million revenue means. Let's!
First I guess you could talk about comp ratios. Banks typically pay their bankers some percentage of the revenue they bring in, ranging from around 32 percent at JPMorgan (a universal bank) through 37 percent at at Goldman Sachs (a full-service investment bank) to 64 percent at Moelis & Co. (an advisory boutique). I don't have PJT Capital's audited financial statements but I'm gonna guess that its comp ratio is right around 100 percent. 3
So what, of course; Taubman also put up 100 percent of PJT's capital, so he's both the employee and the shareholder. 4 But what if a(nother) bank wanted to hire him? If Taubman brings in, and executes, $20 million of business by himself, how much should a bank be willing to pay him? If they give him $19 million, isn't that a good deal for them? It's $1 million they didn't have before, anyway. Obviously banks have risk and overhead and other issues to worry about, but in this age of declining comp ratios Taubman perhaps offers a good contrarian argument. "Pay me more or I'll go start a kiosk," a senior rainmaker might say, now that "kiosk" is a thing.
Part of the reason for the declining comp ratios is the recognition that there's a difference between the value of a banker and the value of a seat. Who can say whether a banker does multi-billion dollar deals because of his own skills or because of the bank's name on his business card? Who can say whether a trader makes millions in profits because of her own brilliance or because of her bank's order flow? Paul Taubman is who. Sort of, I mean; obviously he became a confidant of CEOs because of his time at Morgan Stanley. But now he's just got his own name, or initials, on his business card, and he's still getting their calls.
And then there's the value of junior bankers. How much of Taubman's success is due to his team of analysts and associates, toiling tirelessly and without glory to polish pitches, perform due diligence, build financial models and generally make sure that the deal their glamorous boss has pitched actually gets done? None of it! He has no analysts and associates. The value of analysts and associates to his high-profile M&A business is zero. He does his own execution work, and as for pitching, at PJT it seems to involve mainly answering the phone when CEOs call. 5
What does that tell you about the value of junior bankers generally? Probably nothing really; Taubman was one of several advisers on both of his kiosk deals, and presumably the other banks supplied the grunt work. 6 Still, if I were a junior banker churning out pitchbooks all day every Sunday, I'd be pretty tempted to tell my managing director, "you know, Paul Taubman does 12 digits worth of business without pitchbooks or models, I'm gonna go watch football." 7 You could reasonably conclude that, for banks, analysts are valuable less for their diligent labor and more for the chance that one of them will grow up to be Paul Taubman. You need to replace your cohorts somehow, and I guess building Excel models is as good at training dealmakers as anything else.
But what are clients paying Taubman for? It's not the due diligence or financial modeling or fairness opinion or anything typically done by armies of bankers, since he left his army at Morgan Stanley. It's not his contacts or Rolodex; presumably Comcast and Verizon knew how to get in touch with Time Warner and Vodafone, and Verizon at least hired Taubman after discussions with Vodafone had started. Really they're just paying for his judgment: A trusted adviser, who can tell you when to stretch for a pricey but worthwhile deal and when to walk away, is invaluable.

Some executives at Time Warner have been cool to Mr. Taubman since he advised its board to embrace the ill-fated AOL merger in 2000, now viewed as what may be the worst deal in corporate history.

Whoops! Okay so not that.
Oh that's a little unfair. 8 The Verizon deal proxy actually has a pretty detailed blow-by-blow of what Taubman got up to in its deal, which involved negotiating the purchase price and structure of the $130 billion-ish cash-and-stock-and-bonds-and-other-stuff deal. If there's a 10 percent chance that his negotiating and structuring prowess saved Verizon 1 percent of the deal price, then he earned his $10 million paycheck several times over.
Still, that's hard to quantify, and you'd think Verizon's executives 9 should have some negotiating prowess of their own. Plus Verizon employed six financial advisers, which, again, sort of a surfeit of negotiators. 10 The negative view here might be that Taubman is good at holding the hands and stroking the egos of corporate executives during stressful periods, and that those executives enjoy spending exciting time in the M&A trenches with their old buddy from previous deals. And that they pay for the privilege with tens of millions of dollars of their shareholders' money. I suspect there's a lot of emotional truth to this view. But, as a complaint, it is undercut by the fact that deal fees tend to be a fixed-ish percentage of deal value, divided among a not-so-fixed number of firms; Taubman's fees come not so much out of shareholders' pockets as they do out of the pockets of other banks.
I don't know, how can you not love the kiosk? It's investment banking without any of its apparatus, its pretensions to science, or many of the justifications for its fees (due diligence, extensive financial analysis, armies of product specialists, below-market relationship lending). 11 It's just a guy in a room telling people how to do deals, making a living on the quality of advice and (or?) the quality of his relationships. Everything else is irrelevant. Which makes it faintly embarrassing that everyone else pays for it.
This column does not necessarily reflect the opinion of Bloomberg View's editorial board or Bloomberg LP, its owners and investors.
To contact the author on this story:
Matthew S Levine at mlevine51@bloomberg.net
To contact the editor on this story:
Toby Harshaw at tharshaw@bloomberg.net
Before it's here, it's on the Bloomberg Terminal.
LEARN MORE