Does Ferry Disaster Expose Korea's Flaws?
The Sewol tragedy is a wakeup call for Korea to address the blind spots in its political and business culture.
by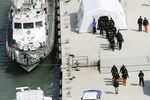 The concept of "balle balle," or "quick, quick!," is at the very core of Koreans' view of themselves. After rising from the ashes of war in the 1950s, bouncing back from financial collapse in the late 1990s, and growing into a technology-and-entertainment powerhouse over the last decade, South Korea has turned its ability get the job done in a bewilderingly short time into a national hallmark.