Obama's Good News Isn't Getting Across
The president is delivering a mixed message about the state of the nation.
by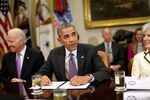 Here's a bit of good news for nervous Democrats: President Barack Obama's health-care law isn't going to be the albatross many feared it would be in this year's congressional elections. Enrollment has soared, and the Congressional Budget Office estimates that the program will cost less than initially projected and that premiums will rise only slightly this year.