China's Water Is Worse Than Its Air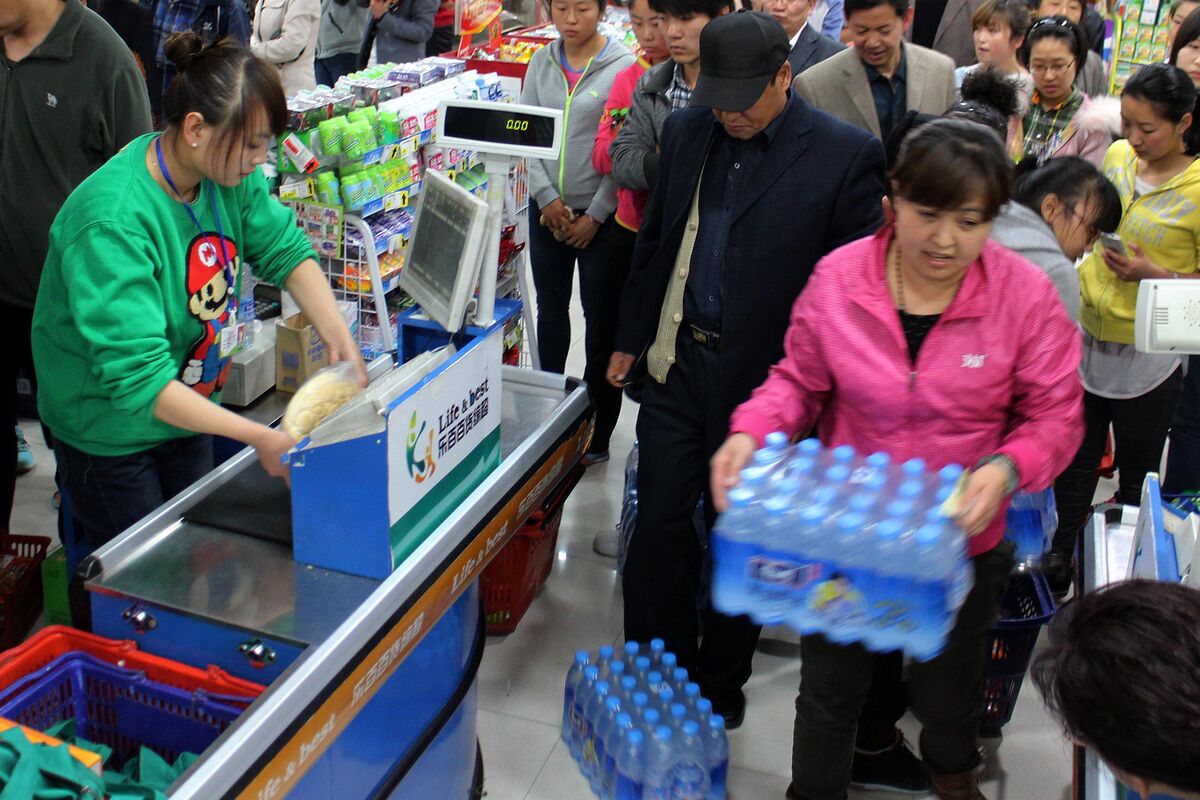 Bottled water is a short-term solution for a long-term problem. Photographer: STR/AFP/Getty Images
In recent months, Chinese leaders have pledged drastic steps to clear their nation's smog-choked air. The bigger question, though, may be how far they're willing to go to clean up its water.
Say one thing for the lung-burning pollution that regularly blankets Beijing and other cities: At least everyone can see the problem. In contrast, a recent benzene spill that poisoned the water supply of Lanzhou -- a city of more than 2 million people -- was terrifyingly odorless and colorless. If anything, polluted water poses a more insidious threat to Chinese people than dirty air does. Seventy percent of the groundwater in the heavily populated north China plain has become unfit for human touch, let alone drinking or irrigation. Because the area encompasses several of the country's largest farming provinces, crops and livestock are exposed to dangerous contaminants as well. The 9 in 10 Chinese who say they're "highly concerned" about the safety of their food and water have reason to be alarmed.
Authorities have shown they can restore blue skies, at least temporarily, as they did during the 2008 Beijing Olympics. Cleaning up China's water will be more difficult, time-consuming and expensive. Industries that pollute water are not concentrated in a few places, as coal-fired power plants are, but spread out across thousands of localities. And dirty water is harder to assess than gritty air; discharges have to be measured near the source. In any case, industry accounts for only half of water pollution. The rest comes from millions of small farmers and livestock producers, whose fertilizers, pesticides and waste runoff leach undetected into the water table.
The sheer scale of the problem demands root-and-branch reforms -- the kind that Chinese academics and activists have long promoted but the government has been reluctant to make. A new environmental law, for instance, may include tougher penalties: Violators who ordinarily pay cheap fines and then continue to pollute would be subject to daily, unlimited penalties and possible criminal charges. But this law is in its fourth draft and still undergoing revisions, and there's no guarantee the stronger penalties will survive to the final version.
Even if they do, they will be of little use unless China's Ministry of Environmental Protection is given greater power. As things stand, so many agencies have a say in environmental oversight, it's almost impossible to take strong, swift action. Groundwater monitoring alone is overseen by three different ministries, as China Water Risk, a nonprofit watchdog based in Hong Kong, points out, and this makes enforcement slow and ineffective. Talk of merging ministries or responsibilities into the MEP has so far gone nowhere.
Another barrier to progress is that many officials remain uncomfortable enlisting ordinary citizens and environmental groups in the battle against pollution -- something that, given how broad the problem is, could be critical to success. Authorities have allowed local journalists and environmental activists to expose some polluters. But they are wary of protests against specific factories, or even civil lawsuits. Last week, a court ruled that residents could not sue the city's water supplier over the spill in Lanzhou.
Chinese Internet giant Alibaba Group Holding Ltd. now offers $10 handheld kits that buyers can use to test their local water, then upload the data to a digital map. Such information could greatly aid the task of naming and shaming offenders -- and it's precisely the sort of transparency the government needs to encourage, not restrict.
Chinese leaders understand the scope of the challenge, and they have said they will spend almost 2 trillion yuan ($324 billion) to combat it. They've made local officials responsible for preserving the environment as well as promoting economic growth, which should encourage more determined enforcement efforts. Officials have talked about introducing tiered pricing for water usage by industries, while raising discharge standards and fees. They're also encouraging the consolidation of small farms into bigger, more efficient plots that use less fertilizer.
But China's water problems are too big and too dangerous to leave any weapons lying on the table. Northern China already confronts a drastic scarcity of water, and pollution further reduces the supply. Chinese leaders should worry less about what may happen if they unleash regulators and the public on polluters, and more about what will happen if they don't.
--Editors: Nisid Hajari, Mary Duenwald.

To contact the editor on this story:
David Shipley at davidshipley@bloomberg.net