Looking for a Gay-Friendly Football Town
Despite an underwhelming performance at the NFL combine, Michael Sam is garnering interest from at least six teams looking to make history.
by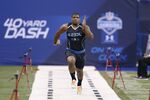 Despite an underwhelming performance at the NFL combine, former Missouri defensive end Michael Sam is garnering interest from at least six teams looking to make history by drafting the first openly gay NFL player.
The Baltimore Sun reports that the Atlanta Falcons, Baltimore Ravens, Cleveland Browns, Indianapolis Colts, New England Patriotsand New York Jets have maintained contact with Sam, who is projected to be a mid-to-late-round pick. Sam is understandably uneasy when discussing his potentially trailblazing role for gay rights in sports, telling reporters at the combine in February, "I just wish you guys would just see me as Michael Sam the football player instead of Michael Sam the gay football player."
Unfortunately, that's not particularly realistic in today's oversaturated media climate. We could sit here and discuss Sam's value on the field: Scouts are wary of his chances of replicating his college success as a 4-3 weak-side pass rusher given his small size, figuring he'd more likely fit into the pros as a 3-4 edge rusher -- once he's proven himself on special teams.
But it would be silly to pretend that Sam's sexuality wouldn't be front and center come Draft Day. His announcement that he was gay, courageous as it was, was also the primary reason he was the biggest story heading into the combine, and will continue to be the reason he shows up in headlines until he fully settles into the NFL. With that in mind, here's a look at the six teams interested in drafting Sam and the cities that might have more gay-friendly environments and fan bases:
Atlanta Falcons
The Falcons already have ties to the gay community: Former nose tackle Esera Tuaolo played one season in Atlanta, four years before he became the third NFL player to come out. In his autobiography, "Alone in the Trenches," Tuaolo describes the fear he felt appearing in the 1999 Super Bowl. "Not one teammate, coach or sportswriter knew I was gay," he writes. "What if one of those billion people watching recognized me as the stranger he had picked up in a gay bar?"
While Tuaolo felt this fear throughout his entire NFL career, it's hard to say things have changed much in the Falcons' home state since then. A 2013 Public Policy Polling study found that 60 percent of Georgia voters think same-sex marriage should be illegal, though it's encouraging that 72 percent are also against work discrimination based on sexual orientation. Then again, it was a Georgia state senator who tried to pass a bill that would allow businesses to refuse service to LGBT customers under the guise of "religious freedom."
Fortunately, the city of Atlanta is much more gay-friendly than the rest of its state: The Advocate named Atlanta the fifth "Gayest City in America." It hosts one of the oldest and highest attended gay pride parades in the nation. Falcons general manager Thomas Dimitroff praised Sam's "courage" after he came out. Perhaps Atlanta, the "epicenter of the gay South," would be a perfect fit for a kid from Texas.
Baltimore Ravens
After Sam's announcement, several Ravens came out in support of the player. "Good for him," wide receiver Torrey Smith tweeted. "I am most impressed that Michael is so comfortable in who he is," former Baltimore linebacker and current free agent Brendon Ayanbadejo wrote.
Since last year, same-sex marriage has been legal in Maryland, which was the first state to define marriage as between a man and a woman in 1973. Last month, the state approved a bill to protect the rights of transgender individuals. As for the city, the gay scene outside of the Mount Vernon neighborhood might leave a little to be desired, but it's less than an hour away from Washington D.C. -- the gayest city in the country, according to the Advocate.
Cleveland Browns
Browns owner Jimmy Haslam said that "absolutely we would welcome Michael Sam" to the team, adding that the organization is "intent on creating an environment that is supportive, accepting and respectful of individual rights and differences." Browns linebacker Scott Fujito echoed this sentiment, stating that "it would not be an issue" to have a gay teammate in the locker room and noting the importance for out gay athletes at the professional level so younger athletes "understand they do have support around them and that they can come out and feel comfortable." And as Yahoo's Shaun Heidrick noted in February, the team has a progressive history, having reintegrated football in 1946 by signing two black players after a long period of segregation.
Ohio hasn't exactly been a bastion of civil liberties, having banned same-sex marriage in the state constitution in 2004. Things seemed to have started to change after a federal judge ruled earlier this month that the state must recognize out-of-state marriages. But yesterday, the judge stayed his ruling pending appeal in a Cincinnati circuit court, a process that could take months. Back in February, state lawmakers tried to pass a bill similar to Georgia's proposed legislation protecting discrimination against gay individuals. The bill was withdrawn just as a Quinnipiac poll revealed that half of Ohioans favor same-sex marriage.
Indianapolis Colts
Add the Colts to the list of teams that have spoken supportively of Sam. "I wouldn't mind at all to play with a talented football player with enough courage to do what he did," punter Pat McAfee said. "Courage ..." linebacker Jerrell Freeman tweeted.
While it appears Sam would be supported by those donning the horseshoe, he might run into trouble from other Hoosiers. Indiana governor Mike Pence has made banning same-sex marriage a cornerstone of his administration, urging lawmakers to solidify the ban in the state constitution. The ban has hit a snag, though conservative lawmakers are still actively trying to pursue it.
The city of Indianapolis seems to be more welcoming to the LGBT community -- though by how much, it's hard to say. The Indianapolis Chamber of Commerce and Indianapolis City Council both oppose the marriage ban. Meanwhile, last month, an Indianapolis bakery refused to make a cake for a couple's commitment ceremony, with the shop's owners insisting, "There is zero hate here."
New England Patriots
Patriots owner Robert Kraft has supported gays in the NFL long before Michael Sam. "We're about winning, and [if] someone can come in here and help us win, I don't care ... what gender preference they have," he said last May. He reiterated those statements after Sam came out: "If a player were gay and came into this locker room, it would be the most supportive system."
This is a no-brainer: New England is one of the most LGBT-friendly regions in America and could be seen as the nexus of the national gay rights movement. Vermont was the first state to recognize civil unions in 2000, while Massachusetts was the first state to legalize same-sex marriage in 2004. Marriage equality has also passed in every other state in New England -- "Live free or die" indeed, New Hampshire.
Sam would be in plenty good company. The Advocate named Cambridge, Massachusetts, the fourth-gayest city in the country, while five New England neighborhoods are among those with the highest concentration of same-sex residents. Provincetown, Massachusetts, is the go-to beach destination for New England's affluent queer crowd, and the number of LGBT-friendly Vermont inns is too many to count.
New York Jets
New York is obviously a mecca for diversity and tolerance, but some recent statements by Jets players are concerning. Last May, linebacker DeMario Davis said he'd be able to play with a gay teammate while making sure to note his belief that homosexuality is a sin. (It's nice that he's "got homosexuals in my family who I love to death," but it's not so nice that he kind of equates them with drunks.)
Regardless, same-sex marriage has been legal in New York since 2011, and the city boasts one of the most ethnically diverse gay populations in the country. I could go through all the ways New York has contributed to the history of gay rights -- from Stonewall to GLAAD to countless anti-discrimination acts -- but it's more effective to look at recent history for an idea of what Sam could expect. Since Jason Collins joined the Brooklyn Nets, he has received an outpouring of support from teammates, fans and the press. His No. 98 jersey -- which he chose in honor of the slain Matthew Shepard -- became the best-selling jersey in the NBA just two days after signing with the Nets. It's one thing to be accepted by your teammates and feel welcomed by your fans. It's another to make history on the world's biggest stage.
(And, yes, I know the Jets technically play in New Jersey, but if the NFL can erroneously invoke New York to sell the Super Bowl, I can do so for this article.)
This column does not necessarily reflect the opinion of Bloomberg View's editorial board or Bloomberg LP, its owners and investors.