Friday Baseball Blogging: Mike Trout and Cooperstown
Cooperstown needs to prepare for Mike Trout.
by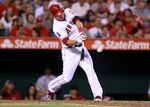 Mike Trout is closer to the Hall of Fame than you may realize.
I thought about this when I was watching Trout bat against Felix Hernandez. I started wondering which one was closer to Cooperstown. I'm big a fan of King Felix, but I'm not sure he's closer than Trout.
This gets back to an argument I had years ago, after Albert Pujols had played his first five or six seasons. At that point, I thought Pujols was almost a lock to get in the Hall of Fame. Even if he tailed off badly and had a relatively short career, his peak was already high enough. What, however, if he didn't get to 10 years, the minimum playing time required? Assuming he didn't just up and quit, it would have to be such a tragic event to cause his departure that they'd waive the rule in his favor.
Trout isn't at that point yet. But there's almost no precedent for someone at his level, at his age, not making it.
He's already accumulated 41 Hall of Fame Monitor points. If he plays regularly for another 10 years, he's almost certainly going to get close to 100 -- even if he suddenly flattens out.
According to Baseball Reference, the five players most similar to Trout at his age are all Hall of Famers. In fact, among the 10 most statistically similar players, not counting certain-inductee Ken Griffey, only Vada Pinson and Tony Conigliaro aren't in the Hall. And so far, Trout's much, much better than either of them. Oh, and those other Hall of Fame players on his list of comparable players? At least five are inner-circle players.

Of course, Conigliaro is the warning signal; injuries are always possible. But it would have to be something of that order-- something Trout never really comes back from. And those sort of injuries for non-pitchers are relatively rare.
So my guess? Trout has a better than 90 percent chance of making the Hall of Fame. I might go as high as 95 percent. What do you think?
This column does not necessarily reflect the opinion of Bloomberg View's editorial board or Bloomberg LP, its owners and investors.