The Meaning of Easter Is Candy
The average consumer who celebrates Easter plans to spend an average of $137.46, up 42 percent from a decade ago.
by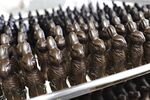 I love Easter candy. I love biting the ears off chocolate bunnies and picking out all the red jelly beans. I even like marshmallow Peeps. And, when you're in front of the Easter display at the supermarket -- thinking, "Creme-filled eggs for a dollar? Must buy them all!" -- it's sometimes hard to remember that Easter is about family and tradition and, yes, even some religion, too.