Searching for Souls, and Soul-Searching, in South Korea
The instant and undeniable outrage of South Koreans in the wake of the ferry tragedy is in some ways a testament to how far the country has come.
by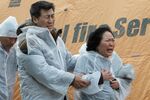 The Wednesday morning edition of the Korea Times contained a fateful cartoon about the plight of missing Malaysia Airlines Flight 370, which is believed to have crashed hundreds of miles off the Australian coast. The caricature shows a submersible being lowered into the water to search for the plane, with a bawling Malaysian Prime Minister Najib Razak strapped to the bottom. A figure representing the families of the lost victims looks on and gives the Malaysian premier an unforgiving thumbs down.