How Can Yahoo Be Worth Less Than Zero?
A thing that pays you positive hundreds of millions of dollars a year shouldn't be worth negative billions of dollars.
by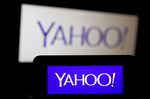 Yahoo Inc. is a public company consisting of a portfolio of
whatever you think Yahoo is,
a 35 percent stake in a separate but similar publicly traded company called Yahoo Japan, and
a 24 percent stake in a separate, different, soon-to-be-publicly traded company called Alibaba.
My Bloomberg View colleague Matt Klein ran the numbers in March, and non-Bloomberg-affiliated Matt Matt Yglesias ran them again today, and the numbers tell you that 2+3 > 1+2+3, as it were: Yahoo's Alibaba and Yahoo Japan stakes add up to be worth more than Yahoo is worth. Meaning that Yahoo's actual business -- Yglesias calls it "Tumblr and Flickr and the iOS weather app that I love and all the news sites and the mail and the fantasy sports stuff" -- is worth a negative amount of money, something like negative $13 billion today. 1
One obvious question is, how can that be true? 2 The actual Yahoo business -- call it "Core Yahoo" -- still makes hundreds of millions of dollars a year in profits, which theoretically belong to shareholders. A thing that pays you positive hundreds of millions of dollars a year shouldn't be worth negative billions of dollars.
Of course, profits that theoretically belong to shareholders aren't necessarily paid out to shareholders: Yahoo pays no dividend and has a ... checkered management history, so you could easily take the cynical view that Yahoo will plow those profits back into a declining business, be completely mismanaged, run the business into the ground and leave shareholders with nothing. Fine! But:
Unless the probability of that outcome is 100 percent -- a rare thing in this life -- then Core Yahoo should have some positive value; and
Shareholders can never be left with less than nothing, so even if the run-into-the-ground scenario is 100 percent likely, Core Yahoo should be worth zero, not billions of dollars less than zero.
So the puzzle remains.
Now, there was a significant sleight of hand in that last argument. Core Yahoo can easily be worth less than zero: It could switch from making profits each year to making huge losses each year. If Core Yahoo has those losses as part of the broader Yahoo Inc. public company, Yahoo Inc. will have to pay to cover the losses. It can do this by selling off some of its Alibaba shares or whatever, reducing the amount of valuable Alibaba left for Yahoo's public shareholders. So Core Yahoo could in fact have a negative value to Yahoo's shareholders, by reducing the amount of Alibaba that they effectively get.
On the other hand, if Yahoo were divided into three separate public companies -- call them Core Yahoo Inc., Yahoo Japan Holdings Inc., and Yahoo Alibaba Holdings Inc. -- then Core Yahoo Inc. would have no claim on the Yahoo Japan or Alibaba shares, and so could never be worth less than zero to its shareholders.
I guess this is fairly obvious, but it leads you to a general theory of the conglomerate discount, which is that a business can be worth less than zero (to shareholders), but a company can't be (to shareholders). I once tweeted this, but it also seems to be a real thing; here is a paper formalizing it. 3 And it's true of good businesses as well as bad ones, since every business has some probability of ending up with a negative value. Google makes a lot of money now, but there's some nonzero probability that the present value of all of its future cash flows as an enterprise will be negative (driverless car rampage, trillions of liability, etc.). But its stock value can't go below zero.
A fun question is, as fiduciaries for shareholders, should Yahoo's directors split into three separate companies to maximize value? If YJHI and YAHI are worth around $9 billion and $40 billion, and Core Yahoo Inc. is worth around, I don't know, one penny, then just doing some corporate restructuring should create $13 billion in free shareholder value. Why not do that? Some thoughts in the usual place. 4
But the broader point is that you shouldn't be too quick to blame either business incompetence or investor irrationality for the negative value of Core Yahoo. Core Yahoo isn't worth less than zero because investors don't know it exists, or because the expected value of its future cash flows is really negative. Core Yahoo is worth less than zero because it's an arithmetic residue of taking a bunch of businesses with very public price tags on them and applying a conglomerate discount.
That discount isn't really about the viability of the core business; it's about the fact that investors don't have direct access to any of the individual businesses, but have to buy them in packaged conglomerate form where any gains on the business they want can be wiped out by losses on the ones they don't. And that's as true of Alibaba and Yahoo Japan as it is of Core Yahoo: 5 Each of those businesses would, as a matter of arithmetic, be worth more on its own than it is in Yahoo. Each share of those businesses that Yahoo owns is worth less to Yahoo shareholders than a share that those shareholders own directly.
But every business everywhere would, as a matter of the same arithmetic, be worth more on its own than it is as part of a bigger company, which is why you always get a lot of people asking that companies break themselves up. Usually, though, the companies can come up with a plausible (and often correct!) argument that the businesses enhance each other as a business matter enough to overcome the disadvantage that they have as an arithmetic matter. Google's driverless car business would have more theoretical option value as its own company, but it also probably wouldn't exist as its own company, so there's a good reason to keep it within Google.
The weird thing about Yahoo is just that the other businesses are so visibly separate, and moving so inexorably off on their own. It's not entirely fair to blame Yahoo's core business for that, but it is the most obvious place to put the blame.
This column does not necessarily reflect the opinion of Bloomberg View's editorial board or Bloomberg LP, its owners and investors.
To contact the author on this story:
Matthew S Levine at mlevine51@bloomberg.net
To contact the editor on this story:
Zara Kessler at zkessler@bloomberg.net
Before it's here, it's on the Bloomberg Terminal.
LEARN MORE