Detroit Gives Pensioners a Sleight of Hand
Detroit's pensioners get a deal that postpones their day of reckoning.
by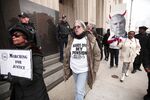 Detroit doesn't have any money. Rather, it doesn't have enough money: It cannot both pay its debts and run the city. That's why the city filed for bankruptcy some months back, over the outraged protests of pensioners who stand to lose a big chunk of their monthly checks.
QuickTake No Longer Motor City
Today, those pensioners are breathing a little easier. The city seems to have struck a deal that will leave their pensions in better shape than previously feared. Instead of cutting those monthly checks by as much as a third, the city will trim them by less than 5 percent.
How did they make such a big change? In part by assuming higher investment returns:
The city initially factored in rates of 6.25 percent and 6.5 percent for the two funds, but eventually agreed that the funds could be presumed to do better -- 6.75 percent -- because of an improved outlook based on the funds' 2013 performance as compared with 2012.
The city also promises lower or no cost-of-living adjustments, and less in the way of retiree health benefits. And the proceeds from a proposed deal, not yet agreed upon, to save the Detroit Institute of Arts' collection by soliciting a mix of state and private funds to pay off the pensioners.
Naturally, many other creditors are unhappy. And taxpayers should probably be wary, too. Raising the assumed rate of return on your pension funds is every government's favorite way to lower its required pension contribution, but if the assumptions don't pan out, the city will still be on the hook for the pensions -- or back in bankruptcy again. It's particularly risky if you just had a nice big run-up in the stock market, which seems to promise untold future riches. That, of course, is usually when the market is preparing for a correction.
Detroit may be buying some temporary peace with its unions, and a little time for current retirees, at the expense of more problems down the road. On the other hand, a lot of people have argued that the city was puffing up its unfunded pension liability in order to drive the unions to the table. If so, it seems to have worked; they have gotten significant, if not enormous, concessions in exchange for settling the claims.
The next hurdle is getting other creditors, and a judge, to agree. Ultimately, I think a bankruptcy judge is unlikely to overturn an agreement in order to satisfy the other unsecured creditors, and in so doing tip the city back into a tug-of-war between unions and others. But the judge does have an obligation to ensure that assets are divided fairly among all the creditors. And some of those other creditors are definitely unhappy with this. "This is not so much a settlement as a reinstatement," Steven Spencer, a financial adviser to one of Detroit's 100,000 unsecured creditors, told the New York Times. "It's a complete and total capitulation to retired pensioners to secure their plan support."
This column does not necessarily reflect the opinion of Bloomberg View's editorial board or Bloomberg LP, its owners and investors.
To contact the author on this story:
Megan McArdle at mmcardle3@bloomberg.net
To contact the editor on this story:
James Gibney at jgibney5@bloomberg.net
Before it's here, it's on the Bloomberg Terminal.
LEARN MORE