Uber Tries to Rise Above the Brussels Taxi Cartel
A Brussels court has banned the Uber taxi service, but the ban benefits no one – certainly not customers and not even cab drivers, who stand to make more from Uber than from traditional taxi services.
by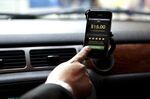 Truly disruptive technology is always socially disruptive: It challenges the established order. In some cases, that order is good at fighting back.