Uber Tries to Rise Above the Brussels Taxi Cartel
A Brussels court has banned the Uber taxi service, but the ban benefits no one – certainly not customers and not even cab drivers, who stand to make more from Uber than from traditional taxi services.
by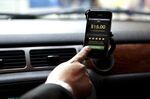 Truly disruptive technology is always socially disruptive: It challenges the established order. In some cases, that order is good at fighting back.
A Brussels court has banned Uber, the taxi app, and threatened drivers using it with a 10,000-euro ($13,800) fine every time they pick up a passenger. Brussels mobility minister Brigitte Grouwels, who supported local taxi companies in seeking the ban, explained that Uber simply failed to follow the rules: Its drivers do not have special licenses, are unregistered and unregulated.

That's exactly the point of Uber, though. In Brussels, where it has been operating since February, it has been accepting pretty much any driver with a car fewer than six years old, valid insurance, and drivers' license issued more than three years ago. Customers know that's the San-Francisco firm's policy everywhere. If they want regulation, registration and licensing, they can go to traditional taxi services. Uber users, however, trust that the firm's system, in which customers rate their experience and other customers pick a driver based on those ratings, works just as well. In a world where approval levels are instantly reflected in a smartphone app, government interference in taxi services has become unnecessary.
The Brussels court decision angered Europe's telecom commissioner Neelie Kroes. "I've met the founders and investors in Uber," she wrote in her blog (no wonder: the investors include Google, Jeff Bezos and Goldman Sachs). "My staff have used the service around the world to stay safe and save taxpayers money. Uber is 100 percent welcome in Brussels and everywhere else as far as I am concerned."
Kroes, of course, is Brussels in the sense that she represents the powerful EU bureaucracy that made the Belgian capital its own. But she is not Brussels the city. Grouwels, whom Kroes dubbed "anti-mobility minister," retorted angrily that were the EU commissioner a minister in Belgium, "she would have to resign" after showing such disrespect for the rules.
Customers side with Kroes. They have flooded Grouwels' Twitter page with protests, cursing the taxi "cartel" and pointing out that limiting the number of taxis to 1,125 in a city of 1.1 million, as current rules do, is not smart.
The Uber ban is not about customers, however: It is about taxi drivers and owners. They are the ones who hate the upstart app-based services the most. During a recent cabby strike in France, "Ubertarians" were physically attacked. Cab drivers' protests against the new technology have led to a weird regulation being enacted in France: Car services such as Uber and its competitors have to wait 15 minutes before picking up a customer's order. That's longer than the typical waiting time for an Uber car in Paris.
Eventually, Uber's foes could find themselves in a dead end. Though Uber's prices in Brussels undercut traditional taxis by about 20 percent, its drivers stand to make more than their government-approved counterparts. Under Belgian rules, a cabbie makes about $31 on a $100 fare, with a monthly guaranteed income of $2,154. Uber drivers get to keep 80 percent of the fare. While the loss of a guaranteed minimum is unpleasant, the upside is potentially bigger unless there is a glut of Uber cars in the area (as is the case in some parts of the U.S.). The market, however, tends to reach a natural equilibrium over time.
The taxi disruption brought by Uber and its peers is a textbook case of markets doing good. If regulators don't want to leave them alone, the technology will force them to do it, anyway. The Brussels court decision, after all, is pretty hard to enforce. As Kroes wrote in her blog, "are the police now going to spy on our phones to see when we are making an Uber booking?" Surely not.
This column does not necessarily reflect the opinion of Bloomberg View's editorial board or Bloomberg LP, its owners and investors.