The Dangers of Letting the Fed Dangle
How long will it take to fill five vacancies at the central bank.? The record of President Barack Obama and the Senate isn't encouraging.
by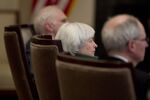 If the Senate doesn't act by the end of May, there will be five open seats on the Federal Reserve Board of Governors. As Peter Conti-Brown points out, that would leave private banking with a clear majority of the votes. Conti-Brown blames President Barack Obama and Senate Republicans for the vacancies. That's a fair judgement about vacancies during Obama's first term. Then, Republicans filibustered every pick, defeating one, and the president was slow to select candidates. Now, however, the nomination process itself deserves more of the blame ... which makes reform even more urgent.

First, the nuclear option imposed last spring removed the minority Senate Republicans's power to kill a nomination by filibuster. They can, however, delay confirmation, and Republicans have engaged in foot-dragging on nominations - filibustering most, and insisting on making the Senate wait through post-cloture "debate" time, even when they don't debate or even oppose a nominee. The more time is spent on uncontroversial judges and executive-branch picks, the more Majority Leader Harry Reid and the Democrats are forced to prioritize some nominations over others, and they can't get to all of them in a timely fashion. So there still is a Republican-forced logjam.
How is Obama doing at making selections quickly? In January, the president nominated three people for three openings (that includes the renomination of Jerome Powell, whose term expired that month). That's not great (why not give the Senate a bit more time?), but reconfirming Powell shouldn't take long. Stanley Fischer was picked to replace Janet Yellen as Fed vice-chair a few weeks before Yellen was confirmed as chair. (Although it was some months after she was nominated). The third case really was a delay: Lael Brainard's nomination to fill the slot of Elizabeth Duke, who resigned at the end of August.
The other two openings are more recent. Sarah Bloom Raskin's seat became vacant when she was confirmed to a Treasury post a month ago (though Obama could have nominated her replacement when he slotted her for that Treasury job), and Jeremy Stein announced recently that he would step down in late May.
So Obama's record isn't terrible: one significant delay out of five seats. Yes, he could have moved more quickly, but he hasn't been negligent this time - assuming he moves fast on the two remaining vacancies.
A major share of the blame should go to Senate Democrats. It took two months for the Senate Banking Committee to hold a hearing for Powell, Fischer and Brainard. A month later, the panel still hasn't cleared them. And that's before they get to the logjam on the Senate floor.
None of this - initial nominations, committee approval or final floor confirmation - should take this long. Obama has some responsibility because he has failed to make any attempt to streamline the process (indeed, he's made it more unwieldy). But the Senate, including majority Democrats, are at fault, too. As I've said, the solution is a major initiative to reform the process with White House and Senate buy-in. Until then, we're going to get more of these situations, which are bad for efficient and effective government and for democracy.

This column does not necessarily reflect the opinion of Bloomberg View's editorial board or Bloomberg LP, its owners and investors.