How to Win a Carbon Tax Fight
This week's IPCC report underlines the case for a carbon tax. Canada shows why that's so hard.
by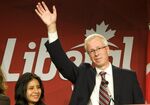 In a perfect world, this week's report from the Intergovernmental Panel on Climate Change would spark renewed interest in a U.S. carbon tax -- rather than just renewed hand-wringing over the unwillingness of U.S. politicians to push such a tax.