view
Europe's Gentle Clampdown on Flash Boys
A new set of EU market rules billed as "the world's biggest clampdown on high-frequency trading" merely allow regulators to observe the activity more closely: 
by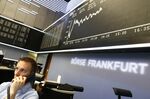 The European Parliament has adopted rules that, according to the Financial Times, add up to "the world's toughest clampdown" on high-frequency trading. The dark art's practitioners, however, won't be seen on street corners asking for spare change. They still have a two years to adapt to the new regulations, which actually aren't that harsh. In their high-speed world, two years are an ordinary person's century.
The document, known as Mifid II, is the second edition of the Markets in Financial Instruments Directive, first passed in 2004. The markets have changed since then, largely thanks to trading algorithms and, in particular, high-frequency trading, which accounts for about 30 percent of European equity trading. The EU regulators have formulated their response:
All high-frequency firms must be "authorized" and "properly supervised," requiring them to keep full records of their trading activity and provide detailed descriptions of their strategies to authorities;

Algorithmic traders pursuing a market-making strategy (providing both a bid and an offer price) are required to maintain that strategy for a specified part of the exchange's trading hours. They also must have written agreements with trading venues specifying their obligations to provide liquidity;

Exchanges that allow high-frequency traders to place their servers next to their own should provide such co-location services on a non-discriminatory basis;

Regulated trading venues will be allowed to charge for canceled orders according to the time these orders stayed in the market. They also can impose a surcharge on participants with high cancellation rates;

All orders generated by algorithms will be flagged to allow regulators "to efficiently reconstruct and evaluate the strategies that algorithmic traders employ";

Regulated trading venues must have systems that limit the ratios of unexecuted orders to transactions and enforce a minimum tick size, regulating the increments by which a price can rise or fall.
Clearly, the European bureaucracy is keenly interested in algorithmic trading -- perhaps it is planning to get a piece of the action -- and is trying to collect data. But the rules for trading venues are non-obligatory: They are merely controls the exchanges must have in case high-frequency traders wreak havoc. None of the activities described in Michael Lewis's "Flash Boys" is specifically banned: High-frequency traders can continue front-running others' orders, and they can continue to pretend to make markets, as long as they make a deal with the exchange.
There is the possibility of punishment if a trader is deemed to have engaged in abusive behavior, such as distorting price-setting mechanisms or using information that isn't publicly available. That, however, is a risk the high-frequency traders have always worked with.
Before Mifid II takes effect in 2016, the European Securities and Markets Authority will have to write about 175 technical rules to flesh out the directive. There still is plenty of opportunity for lobbying. High-frequency traders aren't particularly threatened by the "world's biggest clampdown" -- they're just on notice that Big Brother will be watching.
Most of the new provisions in Mifid were pioneered with Germany's High-Frequency Trading Act, passed in 2012. It has been fully in effect since Feb. 14 of this year. There isn't enough information on how it has affected high-frequency traders in Germany, but my guess would be that it hasn't, or at least not in any truly disruptive way. And perhaps it shouldn't: Algorithmic trading isn't pure evil. It is just a technical instrument that has helped narrow spreads and cut trading fees but has not fundamentally changed what happens in financial markets. In the end, buyers and sellers still find each other, it's only a matter of keeping up with a rapidly changing environment and updating models quickly enough.

European regulators are right to pay attention, but they should keep the sword sheathed for now. The secretive high-frequency trading firms need to know they are being watched. No one, however, promised the low-tech guys any protection from the new reality.

To contact the author on this story:
Leonid Bershidsky at lbershidsky@bloomberg.net
To contact the editor on this story:
Max Berley at mberley@bloomberg.net
Before it's here, it's on the Bloomberg Terminal.
LEARN MORE