What Nestle Says About Emerging Markets
Nestle, the world's biggest food company, published first-quarter sales today, and there are some takeaway lessons about the global economy available in the figures. 
by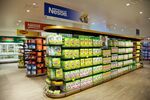 Nestle, the world's biggest food company, publishedfirst-quarter sales today, and the figures offer some lessons about the global economy. First, reports of the death of emerging markets are greatly exaggerated. Second, the risk of foreign-exchange wars is escalating as the major economies all eye weaker currencies as a way to goose exports and growth.
Globally, Nestle's sales increased by 4.2 percent in the first three months of the year, excluding currency effects, the company's worst performance since 2009 though in line with what analysts had anticipated. For emerging markets, however, which Nestle classifies as Asia, Oceania and Africa, the jump was 7.3 percent, to 6.4 billion Swiss francs ($7.3 billion).
The improvement is within kissing distance of the 7.4 percent full-year increase Nestle reported for 2013 from emerging markets. That should cheer those who worry about a slowdown in the double-digit pace of gross domestic product expansion that helped many emerging markets carry the post-financial crisis economy. Just because China has engineered adecelerationto something closer to 7 or 8 percent rather than the 9 percent average enjoyed since mid-1999 doesn't mean imminent economic doom.
By way of comparison, sales grew 4.6 percent to 8.6 billion in the Americas, Nestle's biggest market. This suggests that the world's largest economy is in decent shape. The flip side, however, is Europe, where growth was just 0.3 percent to deliver 5.9 billion francs.
The equity analysts at RBC Capital Markets in London reckon thesweet spotfor selling branded goods is when the per capita income of potential consumers in a country climbs to between $5,000 and $15,000 a year. Below that band, the box of Cheerios stays on the supermarket shelf. Above it and the scope for growth dissolves, since there are only so many Kit Kats you can sell to affluent consumers.
Combining that thesis with some forecasts for population growth, the analysts find that four markets -- India, China, Indonesia, and Nigeria (whose recent recalculations make it Africa's No. 1 economy) -- have the greatest potential to become bigger consumers in coming years.
With just 2 percent of sales made in its home market of Switzerland, Nestle has a heightened sensitivity to currency-market shifts compared with most other companies. It cites the strength of the Swiss franc for reducing reported revenue by 8.6 percent. As 2014 progresses, expect to hear a lot more muttering from the big guns in the foreign-exchange market as their companies compete in the moaning stakes.
``What we need is probably both a weakening of the Swiss franc and a weakening of the euro against the dollar,'' Swiss central bank President Thomas Jordan said a few days ago. Switzerland has had an explicit cap of 1.20 francs per euro in place since September 2011. European Central Bank President Mario Draghi said April 12 that ``the strengthening of the exchange rate requires further monetary stimulus.''
In the past year, the euro has strengthened to about $1.38 from $1.30; the franc has also gained versus the greenback. A weaker yen, meantime, is a central plan of Japan's Abenomics. The yen now trades at 102 to the dollar, weaker than the 97 yen of a year ago.
My trusty Bloomberg terminal says the last comment on U.S. currency came more than a year ago, when Treasury Secretary Jack Lew told his February 2013 Senate confirmation hearing that the so-called strong dollar policy was safe in his hands. In foreign-exchange terms, that may as well be a century ago.
The truth is, no nation wants a stronger currency. But in the same way that you can't mix the perfect heavy-metal record by making everything louder than everything else, logic dictates that not every country can have a weaker currency than every other country.

Mark Gilbert is a Bloomberg View columnist and a member of the Bloomberg View editorial board. Follow him on Twitter at @ScouseView

To contact the writer of this article: Mark Gilbert at magilbert@bloomberg.net .

To contact the editor responsible for this article: James Greiff at jgreiff@bloomberg.net.
This column does not necessarily reflect the opinion of Bloomberg View's editorial board or Bloomberg LP, its owners and investors.
To contact the author on this story:
Mark Gilbert at magilbert@bloomberg.net
To contact the editor on this story:
James Greiff at jgreiff@bloomberg.net
Before it's here, it's on the Bloomberg Terminal.
LEARN MORE