United Debt Collectors of America
Uncle Sam shouldn't hunt you to the ends of the earth for government debts you didn't even know you had.
by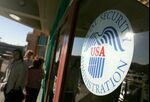 Yesterday, I mentioned that you shouldn't stiff the government. It has more reach than a loan shark, and it's not really more forgiving, either. By way of reference, I pointed to an appalling story from the Washington Post that recounts how the Social Security Administration started collecting on decades-old overpayments by going after the (then) minor children of the people who collected them.