The Twitter Terrorist Who Wasn't
A 14-year-old Dutch girl was arrested for tweeting a fake bomb threat. American Airlines, which was behind the arrest, taught her and her peers the wrong lesson.
by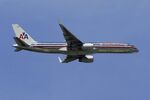 When police in Rotterdam arrested a 14-year-old girl for writing a menacing tweet aimed at American Airlines, they and the airline apparently wanted to teach her a lesson. One has to wonder whether it was the right one.

Granted, the girl, named Sarah and known on Twitter as @QueenDemetriax_, made a really dumb joke. Here's what she tweeted to American Airlines: "hello my name's Ibrahim and I'm from Afghanistan. I'm part of Al Qaida and on June 1st I'm gonna do something really big bye." The airline responded: "Sarah, we take these threats very seriously. Your IP address and details will be forwarded to security and the FBI." A long string of apologies and further lame attempts at humor followed from Sarah. She begged: "pls pls pls can I do something to make it good pls I'm so scared I'm just a 14 year old white girl I'm not a terrorist pls."