Yahoo and NBC Torch ESPN at Olympics
There's a new Worldwide Leader in Sports -- at least for the month of February.
by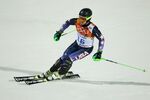 There's a new Worldwide Leader in Sports -- at least for the month of February.
SportsBusiness Daily reports that the digital partnership between Yahoo Sports and NBC Sports propelled the two websites to the top of the ComScore rankings for sports sites in February, ending ESPN's five-month streak at No. 1. Driven by the surprising success of the Winter Olympics, the content-sharing agreement garnered Yahoo-NBC 63.6 million unique visitors combined.
The partnership -- first announced in December 2012 -- was intended to boost Yahoo Sports' television presence while helping NBC Sports expand its digital audience, much like the alliance between Yahoo and CNBC in financial news. At the time, the deal excluded Olympics coverage, an area in which both companies had long competed for dominance. For the Sochi Games, however, the companies decided to join forces.
It clearly paid off, especially for NBC, whose strong numbers must be encouraging after the company committed $4 billion to host Olympics coverage through 2020. In addition to doubling NBC's prime-time television ratings and capturing more than $800 million in ad sales, the Olympics helped NBC Sports to its largest digital audience in a single month, with 39.2 million uniques in February. With television audiences migrating to the web, the success of NBC's live-streaming and mobile applications is a good sign for its expensive and long-term Olympics deal.
Don't expect Yahoo-NBC's reign to last too long; as Awful Announcing notes, ESPN will probably retake its spot atop the ComScore rankings for March thanks to its NCAA basketball March Madness coverage. Still, the numbers show that ESPN's assumed dominance is no longer a given. A marquee event and a strategic, mutually beneficial alliance between former competitors can pose a significant challenge to the network's seemingly monopolistic hold on sports media -- even if it only happens every four years.
This column does not necessarily reflect the opinion of Bloomberg View's editorial board or Bloomberg LP, its owners and investors.