If Michael Phelps Swims, Subway Sinks
The biggest winners in Michael Phelps' return to swimming are NBC and advertisers like P&G. The biggest loser? Subway.
by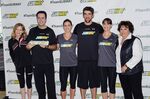 The swimmer Michael Phelps announced today that he's coming out of retirement with an eye toward continuing the greatest career in Olympic history at the Summer Games in Rio in 2016.