Editorial Board
Get the IRS Out of Politics (Mostly)
by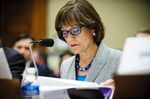 If the public flogging of former Internal Revenue Service official Lois Lerner makes anything clear, it's that the IRS should stay out of politics. So why do so many Republicans and Democrats oppose a change that would help make that possible?

Last week House Republicans referred Lerner to the Justice Department for possible prosecution. Her crime, in their eyes, was giving extra scrutiny to groups applying for 501(c)(4) status with phrases such as "Tea Party" in their names. Never mind that the agency also scrutinized, if to a lesser degree, groups with words such as "progressive" in their names. The essential point is that the agency should not be in such a politically fraught position to begin with.
The problem is that the law itself is vague. IRS regulations allow 501(c)(4) organizations formed for social-welfare purposes, which do not have to disclose their donors, to engage in political activity provided that such activity is not their "primary" purpose. But the IRS has never defined what "primary" means, causing wildly divergent interpretations to take root. In the absence of regulatory clarity, the amount of anonymous (or, to be conspiratorial about it, secret) money flowing into elections has exploded.
Crossroads GPS, co-founded by Karl Rove, spent $70 million in 2012. Americans for Prosperity, co-founded by the Koch brothers, spent $33 million. A liberal group, Patriot Majority USA, which advocates for "comprehensive campaign finance reform that increases transparency," spent $9 million. None disclosed their donors, claiming that they exist primarily to promote social welfare, not politics. That does not pass the laugh test.
Last year, the IRS issued draft guidelines to help clarify which activities are considered political. One might think that both Democrats (who like to complain about secret money in politics) and Republicans (who like to complain about the IRS intruding into politics) would welcome this move, or at least not oppose it.
One would be wrong. The agency received more than 150,000 comments on the proposed new rule, a record. Groups on the left and the right deluged the agency with objections, arguing that such regulations would prevent them from even conducting voter registration drives and issuing voter guides that rate candidates on issues. Even if that's the case, so what? Such political activity should be funded by political committees subject to disclosure rules, not social welfare organizations.
In response to the outcry, President Barack Obama's new IRS commissioner, John Koskinen, has signaled that he will retreat. Instead, he should double down and require that all election-related activity by social-welfare organizations be funded through segregated and transparent political committee accounts.
Even this simpler standard would still require the IRS to determine what constitutes "politics." It would still have to police the line between advocating for issues and campaigning for candidates, which can be fuzzy. But the question the IRS asks itself would be far more straightforward: Is this group engaging in political activity? If so, it cannot receive tax-exempt status -- and if it already does, that status should be revoked.
IRS regulations would have to define political activity pretty specifically, and the process of arriving at those definitions would doubtless prompt a controversy all its own. But that would be preferable to the status quo, where the disputed boundary requires investigations into the size and scope of political activity. Without this brighter line, the IRS and the other federal agency charged with investigating political spending, the Federal Election Commission, will continue acting more like Abbott and Costello than Holmes and Watson.