What Mattered This Week?
The Republican budget won't matter as much as some people think.
by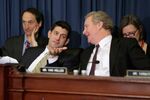 The state revenue data matter. Among other things, it's a sign that better times really may be on their way.
What didn't matter? I'll go with the House Republican budget. Hey, I'm willing to give them credit for trying -- unlike the Senate. But it's not going to have any substantive effect.
What do you have? What do you think mattered this week?
This column does not necessarily reflect the opinion of Bloomberg View's editorial board or Bloomberg LP, its owners and investors.