How Republicans Should Play the Burwell Confirmation
Make the case that HHS has overstepped.
by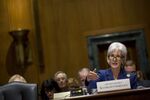 With the resignation of Health and Human Services Secretary Kathleen Sebelius and President Barack Obama 's (prompt, for a change) nomination of Sylvia Mathews Burwell to replace her, opponents of the Affordable Care Act see an opportunity to use the confirmation process constructively. What should that mean?