view
What's the Masters Without Tiger Woods?
The impact Tiger Woods, Derek Jeter and Kobe Bryant -- who all came up in the 1996 rookie class and are in their career twilights -- have had on their teams and sports cannot be overstated.
by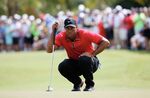 The 2014 Masters started Thursday, and for the first time since he burst onto the pro scene 18 years ago, Tiger Woods is not competing.
Tiger's absence from a major Professional Golf Association tournament comes at a time when other sports have been forced to confront the idea of their futures beyond this generation of iconic stars. In February, Kobe Bryant missed his first All-Star game since his 1996-97 rookie season, a stark reminder to the Los Angeles Lakers and the National Basketball Association that the Black Mamba's days are numbered. And the New York Yankees and Major League Baseball have an entire season ahead to contemplate America's pastime without its golden boy, Derek Jeter.

The impact these stars -- who all came up in the 1996 rookie class -- have had on their teams and sports cannot be overstated, and the players who succeed them will have big Nikes to fill indeed. The NBA is in better shape than the rest, with LeBron James firmly in place as the Next Big Thing. There are a handful of rising young MLB players who as a group carry enough potential star power to engage the next generation of baseball fans, but no single player embodies all the factors that make Jeter the legend he is -- Mike Trout and Andrew McCutchen are probably closest when it comes to sheer talent, charisma and leadership potential, but the future face of the sport probably won't play for the Los Angeles Angels or Pittsburgh Pirates.

As for the PGA, Tiger might not be the formidable, intimidating force he once was, and is in a six-year major championship drought, but he remains the most compelling, polarizing and marketable figure in golf, and perhaps in all of sports. When he turned pro in 1996, he commanded $60 million in guaranteed endorsements; in 2013, he raked in $71 million in off-course endorsements and is the second-most marketable athlete in the world, behind only Roger Federer. In Tiger's rookie season, the Masters tournament drew 10.2 million viewers with Nick Faldo taking home the green jacket; the next year, viewership skyrocketed as 15.8 million people tuned in to watch Tiger win his first of 14 majors. His second Masters victory came in 2001 and garnered 15 million viewers, up from 10.1 million the previous year when Vijay Singh captured the trophy.

The numbers also give a glimpse into the gaping hole Tiger will leave when he eventually retires from professional golf. He missed most of the 2008 season because of injury and ratings suffered drastically. According to Nielsen, "Tiger's absence almost singlehandedly sliced tour ratings in half." For example, the viewership for Sunday at the PGA Championship that year dropped 57.6 percent from the previous year, a loss of more than 5 million viewers. And lest you think his recent major tournament futility has affected his audience draw, ticket prices to this year's Masters began to plummet almost immediately after Tiger announced he was pulling out of the tournament. Yahoo! Sports' Dan Wetzel reports that less than 24 hours after the announcement, StubHub prices for one-day badges to Thursday's opening round were down 10 percent, and had dropped 20 percent by the next day, from $1,165 to $940. Wetzel notes that the loss would have been even greater had the announcement not been so expected, as ticket prices last year ranged between $1,500 and $2,500.
"No single athlete has a greater impact on our ticket prices," StubHub spokesman Glenn Lehrman told Wetzel.
It's unlikely the golf world, or any sport, will find another figure who so drastically, tangibly and single-handedly affects the competitive and business climate as much as Tiger. Many commentators are looking forward to celebrating golfers not named Woods after his retirement. ESPN's Gene Wojciechowski, for example, admirably compiled a list of 20 things to look forward to in this year's Masters. But those all seem like consolation prizes for a tournament and a sport that for so long have been defined by one face, one name and one red polo shirt.
(Kavitha A. Davidson is a Bloomberg View columnist who writes about sports. Follow her on Twitter at @kavithadavidson.)
To contact the author on this story:
Kavitha A Davidson at kdavidson19@bloomberg.net
To contact the editor on this story:
Stacey Shick at sshick@bloomberg.net
Before it's here, it's on the Bloomberg Terminal.
LEARN MORE